Monday, 23 April 2012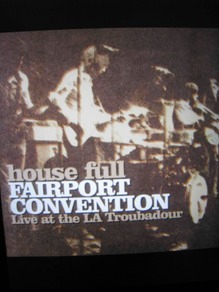 Thank you. This is our last number and it's called Sir Patrick Spens isn't the first thing you'd expect to hear on an album, but presumably it's the only track from the first of three-nights that were recorded to have made the cut for the disk, so there you go.
In any case, if you're into musical archaeology, House Full, as the only currently available live Fairport Convention album with Richard Thompson in the band, is probably required listening. There's the small matter of Fairport's influence on a group of young Angelenos of Mexican origin who morphed into Los Lobos.
Having lost singer Sandy Denny almost directly after Liege & Lief appeared on the market, Fairport had reshaped the vocal department with guitarist Richard Thompson and folkie fiddler Dave Swarbrick sharing the leads with assistance in the background from new bass player Dave Pegg, who'd been slotted in to replace Ashley Hutchings, who was en route to more traditional territory with his new missus Shirley Collins.
The new line up had recorded and released Full House, and were on the road behind the album (as the saying goes) when they landed in L.A. for a week-long gig at the Troubadour (opening, believe it or not, for Rick Nelson) that was legendary for a couple of reasons. According to Dave Pegg the band were doing a week's residency, two spots each night and three on the weekend for which we were going to be paid five hundred dollars. 
But when we went to collect our wages, we'd drunk so much we owed them fifteen hundred bucks. Impressive, even taking into account the possibility that the drinks in question were overpriced and the band were generous tippers where leggy waitresses were concerned.
The finer details of alcoholic catering may have had something to do with the related fact that Led Zeppelin were performing at the Forum and Robert Plant, John Bonham and Fairport's new bass player were old mates from Birmingham. Dave Pegg invited the foursome to the Troubadour after their Forum gig at the Forum and when they arrived a dressing room consultation resulted in Page, Plant, Bonham and Jones joining Fairport on stage for a set that included Hey Joe, Morning Dew, Banks of the Sweet Primroses, 
Mystery Train and That's Alright Mama. While the mobile eight-track machine was rolling throughout the tapes (existence confirmed by Joe Boyd) are buried deep in the Polygram vaults.
But it seems they exist. In White Bicycles Boyd reminisces: the tape reveals Plant's vocal being louder than any of the amplifiers, Page trying to keep pace with Richard on jigs and reels and Zep manager Peter Grant at a front table cursing and abusing the waitresses.
He also recalls Linda Ronstadt being invited on stage (another night, another distinguished guest) after Fairport had run out of encores for another forty minutes covering songs she had forgotten she knew.
There's nothing from either night here, however. So what's on the disk?
Well, for a start, there's nothing that predates Liege & Lief (predictable, the infamous car crash would still have been relatively fresh in the memory), and the Liege and Full House material is fleshed out with traditional material, a World War I bagpipe lament and, on a lighter note, Yellow Birds (or boids, up high in banana trees).