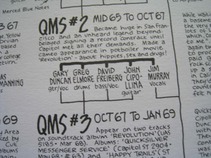 Now that I've come up with the idea, this Rear View thing has opened up some interesting possibilities and I've got a couple of interesting projects mapped out in front of me.
If I want to look at the whole of an artist's body of work, Retrospectives accommodates that sort of thing fairly well, and eventually there'll be articles posted here talking about The Band, the Bonzo Dog Doo Dah Band, Warren Zevon, the Jefferson Airplane, the Grateful Dead and Nick Drake to pick a few obvious choices from the bound biographies sitting over in the bookshelves.
On the other hand, Rear Views gives me an excuse to replay and reflect on some albums that might not be classics, but definitely qualify as old favourites.
When you're talking old favourites a chronological approach is a natural fit, so it's logical to go right back to the early days. Not quite back to the beginning, of course. That'd involve tracking down a copy of From Nowhere by The Troggs and everything that could possibly be said about The Beatles Greatest Hits Volume 1 has probably already been said.
At some point I'll get around to a Rear View of The Crazy World of Arthur Brown but since the next couple of Rear Views all come out of the same time and place, it's worth saving a bit of time talking about the time and place involved.
The albums:
Living With The Animals by Mother Earth
Happy Trails by the Quicksilver Messenger Service 
and the first four albums by the Steve Miller Band.