Friday 3 February 2012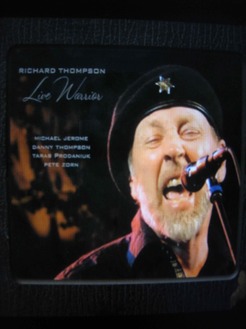 I've written about the Richard Thompson cottage industry elsewhere, but I'd crave the reader's indulgence if I'm reworking familiar territory since, despite his ranking in Hughesy's personal iconography, Richard Thompson's not exactly a household name.
While he was a founder member of English folk-rock aggregation Fairport Convention, he went solo back in the early seventies, was part of a duo with first wife Linda, saw that end in an acrimonious divorce and has spent most of the past three decades working a combination of solo and band projects and touring extensively, which is where this live compilation from  his 2007 tours of the UK and USA to support the Sweet Warrior album kicks in. While money from the promoter pays the bills and keeps things running while you're on tour the cream comes in the form of content for the merch booth, and Thompson has almost got this side of things down pat.
Sweet Warrior was his eleventh studio recording since 1983's Hand of Kindness, and, since it was a band effort, was followed by a band tour where shows were taped directly off the sound board by front of house sound man and tour manager Simon Tassano. After the tour, as usual, production manager Tom Dubé sat down with the tapes and patched together a representative sample from the tour, which then appears for sale to the public, adding another little trickle to RT's income stream.
With the new album out there on the merch booth during the tour, each night's show will predictably feature a setlist heavily weighted towards the product, and, predictably, the live album will display the same bias, so the average reader may well be scratching the noggin and wondering about repetition.
So here's the rub. Despite the repetition there's almost invariably something extra on offer here for three very good reasons. First, when recording in a band environment time is money, so Thompson tends to work quickly, keeping rehearsals to a minimum. He tends to use the same basic pool of musicians (Danny Thompson where the bottom end comes from a double bass, otherwise Taras Prodaniuk on bass guitar, Michael Jerome or Earl Harvin on drums, Pete Zorn on acoustic guitar, mandolin and assorted wind instruments) as he tours with, but that minimal rehearsal bit means that things get reworked a bit when they hit the road and the players have the time and space to explore a little further.
Second, while much of the live set will come from the new studio album he's got those other titles in the proverbial extensive back catalogue to draw from. This time around the live set revisits Amnesia (I Still Dream), Daring Adventures (A Bone Through Her Nose), Hand of Kindness (The Wrong Heartbeat), Rumour And Sigh (Read About Love), Shoot Out the Lights (A Man In Need) and throws in the traditional Mingulay Boat Song alongside the Sweet Warrior material (Needle and Thread, Bad Monkey, Take Care The Road You Choose, Dad's Gonna Kill Me, I'll Never Give It Up, Guns Are The Tongues, Sunset Song and Mr. Stupid).
Third, there's always the probability of extended guitar workouts from one of the world's leading exponents of the instrument in acoustic and electric incarnations.
As far as the performances go, however, while there's nothing here that will come as any surprise to Thompson fans, just crisp, clear recordings of a live outfit that's one of the best going around backing a great songwriter who plays a stinging electric guitar. Your own mileage may vary, but if you're looking for someone who writes songs that are firmly rooted in the British tradition yet highly individual Thompson's your man. Start here and work forwards to Dream Attic, where he reversed the usual practice and recorded the new album live rather than hitting the studio first or take a trawl back through the catalogue, whichever road you choose there are riches to explore and treasures waiting to be unearthed.