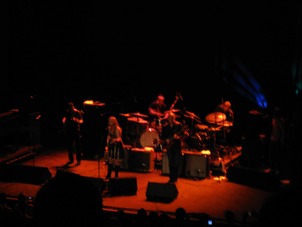 We don't get too many touring acts up this way (and when we do, people who don't buy the Townsville or Mackay papers, don't listen to the radio or watch much TV don't always learn about them), so these days the concert action tends to happen at least a thousand kilometres away, which in turn raises issues with air fares, accommodation and transfers on top of the $100-plus tickets.
Still, the money's not that much of an issue these days, and if the rumours about a Springsteen tour that circulated in late 2011 had turned into material reality Hughesy was prepared to catch as many sequential shows as he could find tickets for…
That said, I'm finding myself increasingly disinclined to head away unless it's someone I really need to see, and they're becoming increasingly few and far between as the old mortality bit kicks in.
The most likely scenarios, as far as future action is concerned, fall into three categories.
There's a window around the end of January and early February that has been known to throw up a couple of interesting acts around Big Day Out time, which had Neil Young, Leonard Cohen and Jeff Beck hitting our shores in 2009, right when Hughesy's finances didn't run to that sort of extravagance. 
Needless to say there was nothing to match in the same time frame in 2010, 2011 or 2012.