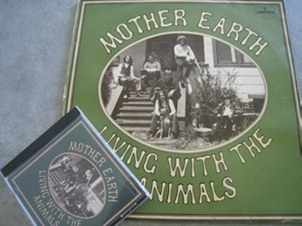 Some albums are almost inextricably linked to the times and the circumstances surrounding the recording sessions. While it's possible to see elements of Forever Changes (undoubtedly, in Hughesy's opinion, the greatest album of all time) in its predecessor, Da Capo, the combination of Arthur Lee, Bryan McLean, a mansion in the hills above a burning Los Angeles and the spring and summer of 1967 was very much a one off set of circumstances.
Along the same lines, a combination of Patti Boyd-Harrison, heroin, a writing partnership with Bobby Whitlock and the interplay with Duane Allman's guitar that produced Layla and Other Assorted Love Songs wasn't going to be repeated in Eric Clapton's voluminous discography. And I doubt that Neil Young has felt the need to attempt to replicate the fog of tequila and other substances that surrounded the recording of Tonight's The Night and the subsequent tour with the Santa Monica Flyers.
That's exalted company for an album that practically nobody has ever heard of, but Living With The Animals by Mother Earth could only have emerged from the particular set of circumstances surrounding the band's stay in San Francisco in 1967-68. The album cover shows the band gathered on the steps of a building, presumably a San Francisco residence where the members lived, and the album's contents suggest a repertoire that was developed to encompass the work of two quite distinct musical identities.
The album starts with Marvel Group, a comic book pastiche by singer/songwriter Powell St. John, who'd been a harp playing beret-wearing beatnik in the University of Texas folk/bohemian music scene and had written material for first two albums by the 13th Floor Elevators before relocating to San Francisco. Along the way, playing at parties and clubs around Austin he'd worked with Janis Joplin in a trio called The Waller Creek Boys. St John took out writing credits on two other tracks - the album's title track, Living With The Animals, and The Kingdom of Heaven (Is Within You) - and sings Willie Dixon's My Love Will Never Die.
Vocals on the other six tracks on Living With The Animals were contributed by Tracy Nelson, who'd arrived in San Francisco from her home in Madison, Wisconsin via Chicago and Texas. Back home in Madison, Tracy had been discovered by Sam Charters, author of The Country Blues and The Bluesmen and producer of many noted blues albums, including Chicago: The Blues Today.