Saturday 31 December 2011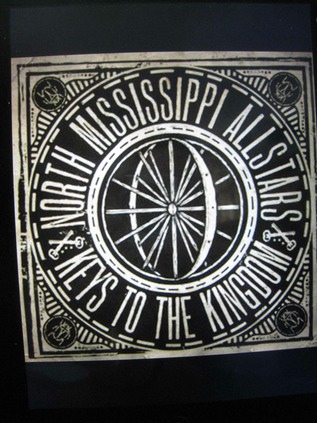 Given the genre (bar band southern rock or its cousin brotherbeer'n'boogie) you might suspect there are a couple of thousand outfits like the North Mississippi Allstars out working the clubs, bars and juke joints of the states below the Mason-Dixon line, but there won't be too many who can claim the links the NMAS have to key but largely sidelined figures in the field.
Guitarist Luther Dickinson and drummer, keyboards player and electric washboard(!) dude Cody Dickinson are the sons of Memphis musician and producer, Jim Dickinson who worked with Ry Cooder, Bob Dylan and the Rolling Stones. Jim passed away two years ago and Keys to the Kingdom is, to all intents and purposes, a celebration of Dad's life and work. 
It's a genre that you'll probably either love or hate (no pretensions to virtuosity, but they can dig a groove with the best of them). The album's tidy enough as a genre exercise without aspiring to or reaching any significant heights in terms of innovation or virtuosity, bit those two elements don't turn up too often in the genre, do they?
Hughesy's tip: Sample a couple of tracks and then click over to their cover of Dylan's Stuck inside of Mobile with the Memphis Blues Again which is one of the best things I've heard in a long time.