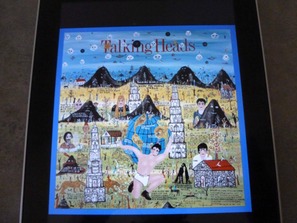 By rights I should be heading back to Talking Heads 1977 to begin a re-examination of a band that largely passed by without my paying a great deal of attention, but $8.99 for the sixth album by Talking Heads is one of those things that tend to throw logical sequencing out of whack.
Eight years on and five albums under their belt, David Byrne and associates appear to have had enough of living the edge and turned their heads towards a poppier sound rather than another excursion into the quirks of the avant-garde. The result was, by all accounts, the band's best-selling studio effort, with over two million copies sold in the US and enough tracks that gained some sort of exposure to have someone who wasn't paying much attention to the mainstream media nodding his head in vaguely remembered recognition on the first couple of runs through the album.
What I ended up with is the 2005 re-release, remastered with the seemingly obligatory bonus tracks (early versions of Road To Nowhere and And She Was, extended mix of Television Man) where the core Talking Heads quartet (David Byrne, drummer Chris Frantz, Jerry Harrison on keyboards and Tina Weymouth) get some assistance from session players, but it's a stripped back, skeletal Heads without the Brian Eno production and the likes of Adrian Belew and Bernie Worrell beefing up the instrumental quotient.
Where preceding albums had been exploring the fringes, incorporating avant-garde ethnomusicological flourishes, this time around Byrne has retreated to as close to ordinary pop structures as he was ever likely to get, something that's obvious from the bouncy beginning to And She Was, three and a half minutes of boppy R&B-inflected nonsense. Probably deep and meaningless, but there's a catchy melody and a great chorus that'll get everyone bar the most reluctant tapping the toes.
There's some tight ensemble work on the group-written Give Me Back My Name, which sounds remarkably like The Go-Betweens, while Creatures of Love celebrates simple pleasures, concluding that sex is all right since It makes those little creatures come to life. What's more he seems like he means it, rather than offering some sort of wry facetious observation.
The Lady Don't Mind and Perfect World continue that vibe, and if the babysitter or whoever's the protagonist in Stay Up Late wants to make him stay up all night, that's a reaction to cuteness and charm rather than a quest for revenge. Walk It Down funks itself along quite happily, while Television Man plonks Byrne down in the living room with the idiot box operating, though we're just good friends and the jungle call and response bit suggests things may not quite be the way they seem. 
But they've saved the best till last. If Television Man delivers an impression of suburban normality (that's how the story ends) Road to Nowhere delivers an assessment that's best summed up in one of the early lines in the song (the future is certain/we just need to work it out) and if we're not actually bound for anywhere significant don't worry too much because at least we'll have company along the way and may well be able to amuse ourselves along the way.
With the benefit of close to thirty years worth of hindsight you could possibly argue that the album represents a deliberate retreat from avant-garde eccentricity, attempting to grab a piece of the action in the mainstream after the experimentation that established the band's reputation, but that, I think, is creating a rather elaborate construction out of something that seems to have a rather straightforward explanation. You can only work with the material you have to hand, and you clothe it in the most appropriate apparel. Byrne, for whatever reason, started writing material that was more straightforward and the result might seem like a straightforward catchy pop album, but it's the work of people who knew what they were doing and the main point is that, quite simply, it works.
And from here, I guess, it's back to '77..