Saturday, 24 July 2011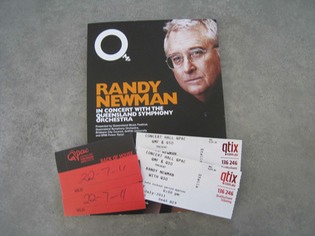 I must have gone awfully close to missing Randy Newman with the Queensland Symphony Orchestra at the QPAC Concert Hall after I misjudged the amount of footpath on the other side of a lamp post and found myself tumbling onto Grey Street in the face of serious oncoming traffic.
Actually, I must have gone awfully close to hospitalisation but nothing short of serious injury was going to stop me from actually getting there, so it was a case of a quick return to the hotel room, an improvised patching up that used up most of Madam's supply of bandaids and a change of pants before resuming the quest for pre-concert nourishment.
Whether the delay kept us out of the preferred option will never be known. The tapas bar was, as it turned out, a case of needing a reservation by the time we arrived on the doorstep and everywhere else in the vicinity looked reasonably close to chockers. We settled for a very basic toasted sandwich and a couple of glasses of water at the cafe in the courtyard rather than the tapas and interesting wine we'd pencilled in earlier in the day.
Still, with the prospect of Randy Newman in an orchestral setting I'd have happily settled for a slice of dry bread and a cup of warm dripping if it was going to ensure entry in a situation where the tickets advised us to Please note lockout period applies. In hindsight we could have gone for something a bit flasher in the dinner department, since we were in the environs of the Concert Hall well before the doors opened.
With the possibility of backstage access after the show I wanted something other than a ticket to get signed, and in the absence of anything reseåmbling a program I shelled out for a copy of 12 Songs, the only Randy album I didn't have on CD or as a download from iTunes.