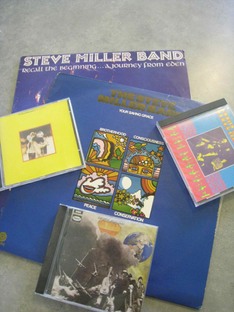 In the summer of 1968 my family spent a week, a fortnight, I forget which at Bingil Bay between the time I sat for my Year Twelve exams and the publication of the results. There wasn't a great deal to do when you'd had enough of wandering around the beaches and rainforest apart from listening to the radio, and as it happened, the local radio station, Innisfail's 4KZ, had a playlist with tracks that you didn't hear anywhere else.
It's the only place I recall hearing an obscure gem called Colonel Burke Has Pink Suspenders On, the B-side of a single by Peter Best, who went on to a career in advertising and film score composing. From what I recall the station hadn't been on the air long and lacked the extensive record library that other stations would have built up over the years. Given what they were forced to play as a result of that situation I wasn't complaining.
In December 1968 two tracks receiving regular airings on the station were the Steve Miller Band's Living In The USA and a wonderful bit of A.A. Milne-inspired psychedelia called Bears by the Quicksilver Messenger Service.
As a voracious reader of whatever music magazines I could lay my hands on, I was familiar with both names, having seen them regularly in print and knew that both came from San Francisco, and, while they weren't as prominent as the Dead or the Airplane they were both significant forces in a thriving musical scene. Beyond that, I didn't know much. 
I had no idea, for instance, that Steve Miller's musical wanderings had taken him from Dallas Texas, where he was born on 5 October 1943, through Texas, Wisconsin and Chicago on his way to San Francisco, or that a member of the Miller Band was Boz Scaggs, who went on to temporary big name status a few years later.
With a driving harp-driven groove, Living In The USA was the first single off the second Steve Miller Band album released overseas the month before, although it took some time to make its way into a record collection near me.