Thursday , 22 March 2012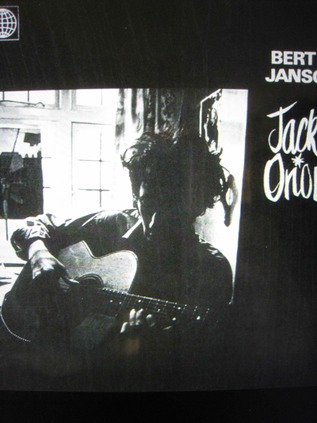 Bert Jansch and It Don't Bother Me were, looking back from the perspective of a bloke who hadn't paid much attention at the time and is now engaged in a catch up mission, interesting enough exercises in fingerpicked guitar and vocals, but having heard that sort of thing from time to time over forty-something years there wasn't anything that made me stop, sit up and pay attention. This one, however, is different.
In any emerging scene you're going to get a degree of reconnaissance and quiet checking out before you hit the real groundbreaking territory, and Jack Orion was a large enough quantum leap from Bert Jansch and It Don't Bother Me to have me surfing over to iTunes to check what might be the missing piece in the jigsaw, Bert and John, Jansch's 1966 collaboration with John Renbourn.
To fill in a bit of backstory (simplified in the interests of not throwing everything out of whack by halting proceedings in order to reread Dazzling Stranger and Electric Eden) Jansch arrived in London in the mid-sixties as a close to complete virtuoso after a musical apprenticeship in  the folk clubs of Edinburgh and a couple of years busking and hitchhiking around Britain and across the continent, travelling as far afield as Tangier before being repatriated with dysentery.
Back in London he'd fallen in with, among others, John Renbourn, Davey Graham, Roy Harper, Wizz Jones and Paul Simon, who was in between the original recording of Sounds of Silence and the percussion added version that became the hit single.
In such circumstances there's bound to be a degree of jamming and cross-fertilisation, and Jansch seems to have hit it off with Renbourn to the extent that he appeared on It Don't Bother Me (as did Harper) and the results were first heard on Bert and John, which was quickly followed by Jack Orion, the album that (in the words of Colin Harper in Dazzling Stranger (p. 3) all but defined a new brand of music - British fingerstyle or folk-baroque or whatever it may be called.
From the opening notes of The Waggoner's Lad with Jansch on banjo while Renbourn picks out the guitar part we're looking at traditional material and traditional-sounding facsimiles being given a reinterpretation by two gifted musicians who were, by this stage, sharing a flat with the opportunities for collaboration and exploration such an arrangement delivers.
If you know Ewan MacColl's The First Time Ever I Saw Your Face from the Roberta Flack version you mightn't pick it up here, but at 1:45 it's a prelude to the album's centrepiece, Jack Orion: a ten-minute adaptation of a traditional ballad where king's son who's a harper plays before another king, arranges to meet his daughter, and is betrayed by his servant who is supposed to wake his master but goes in his place and rapes the princess, who subsequently kills herself. The harper then kills the servant and then either goes mad or kills himself. There was, apparently, a lot of that sort of thing going around at the time.
In the ballad, Glasgerion was a harper, but while the words had survived in print the tune had disappeared until British folk revivalist A.L. ('Bert') Lloyd fitted a tune to the words and changed the lead character into a fiddler. Lloyd had recorded the new version in 1965, and the Jansch/Renbourn interpretation went on to become one of the centrepieces of Pentangle's concert setlist before appearing on 1970's Cruel Sister.