Friday, 30 August 2013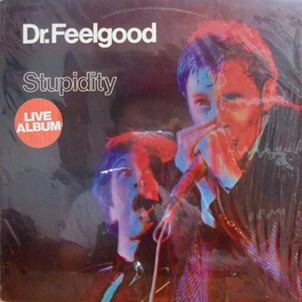 They mightn't have sold albums by the truckload, but by the time Dr Feelgood's third album appeared on the record racks they had a large enough following that was sufficiently fanatical to shoot the album straight to the #1 spot in the UK charts. It only stayed there for a week, and after nine it had disappeared, but Stupidity was the first live album to go to the top spot in the UK chart in its first week of release, and, like the far more commercial Rock Follies in 1976, hit #1 without coming in on the tail of a hit single.
Rock Follies, of course, managed that achievement on the back of a successful TV series, where the Feelgoods' success was entirely based on their reputation as a live act. From the opening blast of Chuck Berry's Talking About You to the take on Roxette that closed proceedings (there was a bonus Riot in Cell Block No. 9 / Johnny B. Goode single parcelled up with the first 20,000 copies and those two tracks are tacked on the end here), 
Chuck Berry penned Talking About You, though you might not sot that at first (it doesn't have that distinctive Chuck Berry riff) but it gets things off to a lively start before Wilko Johnson steps up to deliver 20 Yards Behind while Brilleaux's harp wails away in the background and Solomon Burke's Stupidity keeps the groove going with its Cousin Brother of Ooh Poo Pah Doo riff, as does Wilko's All Through The City. Familiar Feelgood meat and potatoes, good solid R&B that delivers a punch but doesn't hit any heights.
That begins to change on, of all things, Bo Diddley's I'm a Man. There are more obvious suspects if you're looking to kick things into overdrive, but remarkably it's a Wilko Johnson showcase as he takes lead vocal over Brilleaux's harp and a thudding rhythm section. The guitar solo, when it comes, is a masterpiece of thudding blues-drenched minimalism. Still not hitting the heights, but definitely on the ascent. The trend continues on a spirited growling prowl through Rufus Thomas' Walking The Dog and Wilko's She Does It Right, all sharp, angular guitar hook and razor sharp rhythm section. Two to crank and let rip.
As is the slashing Mick Green riff that kicks Going Back Home towards overdrive, a touch of horn in the outstanding Brilleaux harp solos (both of 'em) which mightn't quite match the J. Geils Band's Magic Dick, but ain't far off. 
Up to this point we're looking at a recording from a show in Sheffield as Side 1 of the vinyl, and as leads off the second mind we're back on the band's home turf in Southend. That might account for the rise in ambient crowd noise as I Don't Mind ends and that distinctive riff leads off into Back in the Night's strutting, slashing R&B strut as Johnson cuts loose with stinging Hubert Sumlin licks.