Monday, 30 April 2012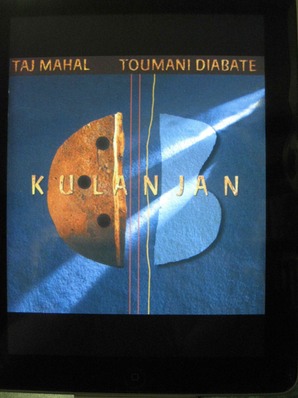 If you could collect a dollar for every one of these American blues man reconnects with his African roots albums you'd probably have the readies to head out and buy a rather expensive bottle of something, but when it comes to that back to the roots bit Taj Mahal has been doing it longer than most. 
He's been visiting Mali since 1979, a good fifteen years before Ry Cooder and Ali Farka Toure's Talking Timbuktu which was the first of those exercises I encountered. As far as Taj is concerned he's descended from Malian griots, so on that basis a collaboration with kora player Toumani Diabaté, the descendant of seventy-one generations of musicians in a patrilineal line, looks like an obvious avenue to explore. If you're talking roots, that's serious roots.
Taj met Toumani as far back as 1990, but this set, recorded in 1999 in Georgia with half a dozen Malian griots (Toumani Diabate, kora; Kassemady Diabate, vocals, guitar; Ramatou Diakite, vocals; Bassekou Kouyate, ngoni, bass ngoni; Dougouye Koulibaly, kamalengoni, bolon; Lasana Diabate, balafon; Ballake Sissoko, kora) offers an interesting blend of American and African influences melding the blues, ragtime and folk themes from the New World with timeless elements from the sub-Saharan region.
The blend is easy enough to sample on the album's opener, Queen Bee, a track Taj has cut several times, with Ramatou Diakite's improvised Wasulunke vocal skipping along as Diabate tinkles away before Taj cuts in with the more familiar vocal line. It's probably the most striking track, and while the the blues themes through the rest of the album are fairly familiar (Catfish Blues, Take This Hammer), the Malian influences transform the likes of Ol' Georgie Buck into a celebration of the songs' African roots. 
Apart from the reworkings of familiar material the Malian love ballads, hunter's songs, and songs of praise to departed heroes work on their own level and the two elements combine seamlessly to create a sound that works as a fusion of ancient traditions and music that's obviously descended from those traditions but has been shaped by outside influences while retaining the traditional base.
The combination makes for an interesting listen that I'd like to have heard a decade before I actually did and would probably have brought my ears to a couple of subsequent favourites (Toumani Diabate in particular) early enough to have them as a key ingredient in the Tuesday night Fools Gold or the Sunday afternoon session on the local community radio station.