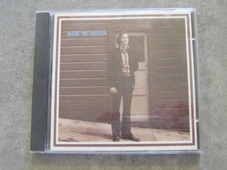 Officially, he's William Royce Scaggs born on 8 June 1944 in Ohio to Royce Scaggs, a travelling salesman who flew in the Air Force in World War II, and Helen Scaggs. As you'd suspect, travelling salesmen travel, and the family moved from Ohio to Oklahoma before ending up in Dallas, Texas. Attending the same school as a certain Steve Miller, a fellow student persisted in addressing him as Bosley to the point where William Royce became Boz Scaggs.
Having started off learning the cello, his friendship with Steve Miller prompted him to switch to playing guitar and in 1959 he joined Miller in The Marksmen, a Dallas outfit that lasted until the pair moved to Madison to attend the University of Wisconsin, playing in blues bands The Ardells and The Fabulous Knight Trains on the side.  By 1963, Scaggs was back in Dallas, fronting an R&B unit called The Wigs, which relocated to England, disbanded, and had two of its members - John Toad Andrews and Bob Arthur - return to the US, ending up in San Francisco where they were part of the first incarnation of Mother Earth. Scaggs remained in Europe, singing on street corners, and ending up in Sweden, where he recorded a solo album, Boz, in 1965. The album didn't set him on the road to stardom, and after a brief stint with a band called The Other Side, a postcard from Miller invited him to head over to San Francisco to join the Steve Miller Band.  As a songwriter and rhythm guitarist. Scaggs appeared on Children Of The Future and Sailor before that old favourite creative differences prompted him to leave the band and embark on a solo career.
With Rolling Stone publisher Jann Wenner's assistance, Scaggs signed a contract with Atlantic and ended up in Muscle Shoals studio cutting the album that appeared in 1968 as Boz Scaggs.  Listeners who were expecting something resembling a west coast groove would have been disappointed, though their reactions would have been nowhere as strong as bluesman Fenton Robinson, who sued (successfully) for the writer's credit on Loan Me a Dime, the album's highlight, featuring Duane Allman's guitar on a 12:48 magnum opus. Unfortunately, that wasn't enough to get the album into the charts, and two years later Scaggs found himself signed Columbia, with Glyn Johns looking after production duties on 1971's Moments and Boz Scaggs & Band, both of which failed to make an impression on the charts. Scaggs took the producer's chair for My Time in 1972, handing it on to Motown's Johnny Bristol for Slow Dancer in 1974, before hitting the big time with the Joe Wissert (Earth, Wind & Fire) produced Silk Degrees in 1976.