Monday, 2 June 2008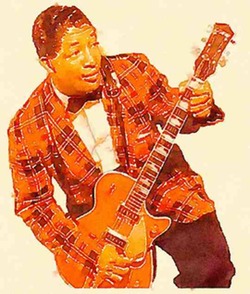 Born Ellas Otha Bates (30 December 1928 – 2 June 2008) but better known under his stage name or as as Ellas McDaniel (that's the name that appears in his songwriting credits) , R&B vocalist, guitarist, songwriter and rock and roll pioneer. 
Checking my email this morning I noted that we'd lost another iconic figure.
As I wandered into the bedroom to get ready for the morning walk I remarked to 'Er Indoors that Bo Diddley had died.
Who, she asked, is Bo Diddley?
I imagine that she won't be the only one asking that.
The day before we'd learnt of the death of Yves St Laurent. Maybe plenty of people asked who he was as well. After all, you can't hear fashion design. On the other hand, anyone who's heard their fair share of rock & roll has heard Bo Diddley, even if you didn't hear yer actual Elias McDaniel. 
I'm referring, of course, to the legendary Bo Diddley beat which traces back to the African roots of the blues as does the Diddley bow that could have supplied Mr McDaniel with his stage name. There are, of course, a number of other explanations....
A couple of my favourite manifestations of that rhythm:
covers of Mona by the Quicksilver Messenger Service and Jo Jo Zep and the Falcons;
the Bo Diddley's A Gunslinger > Bo Diddley at the end of Warren Zevon's classic live album Stand in the Fire;
the extended intro to She's The One that Bruce Springsteen and the E Street Band were doing on stage in 1978 (there's a particularly good one from the Agora Arena in Cleveland on 9 August 1978).
and just about any version of Not Fade Away.