Monday, 26 August 2013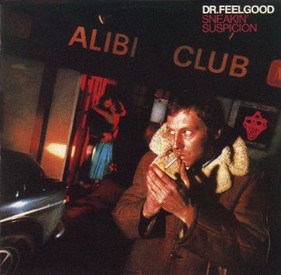 You could see the warning lights all the way along. There was, right from the beginning of the Dr Feelgood story, a serious question about the role of original material in a decidedly traditionalist outfit, and while Down By the Jetty had been heavily (two-thirds) weighted towards Wilko Johnson originals, Malpractice was closer to fifty-fifty and there are suggestions out there that the decision to record and release the live Stupidity was at least partly prompted by Johnson's inability to come up with enough new material for a studio album. It might have been close to the classic Feelgoods album, and is definitely the one to have if you're only having one in your collection, but Stupidity had definite hints of the old stopgap measure.
Consider the chronology. 
Down By the Jetty, recorded between June and November '74, released January 1975. Malpractice released nine months later in October '75. Stupidity, recorded on two nights in May and November 1975 released nearly twelve months after Malpractice in September '76 and then Sneakin' Suspicion in May 1977.
From the undoubted 20/20 vision that comes with hindsight it looks awfully like a record company that was out to maximise the output (four albums in less than two and a half years) which is a reasonably big ask for an outfit that's working from a basic palette with a single member contributing the all-important original material.
By all accounts there's more to the story than the old weight of the songwriting resting on one man's shoulders behind the potentially fatal blow (Wikipedia) that came with the departure of guitarist and co-focal point, Wilko Johnson. Along with Lee Brilleaux's manic persona, Wilco's stone-faced psychopath was a major part of the band's visual impact, but away from the stage the two of them were, by all accounts, chalk and cheese, and differences over matters like alcohol (Wilko didn't imbibe, the other three did) and the expectation that he'd continue to come up with new material seem to have eventually taken their toll. 
No surprises there.
And there aren't many surprises when it comes to an increasing reliance on reworking covers into a format that has rather definite stylistic boundaries. Take new material, slot it within those boundaries and while the audience might be able to compare it to what you'd done before they're not able to make external comparisons.
On my first run through an album I hadn't heard a lot of (the Wilko departure factor being part of it, but, more importantly, the late seventies were well and truly into what I've termed The Wilderness Years as far as listening and discussing music was concerned) I was actually quite looking forward to the band's take on Nothin' Shakin' (But the Leaves on the Trees) . Wikipedia will tell you it was originally released by Eddie Fontaine in 1958 and had covered by, among others, The Beatles, Crash Craddock, Billy Fury and Linda Gail Lewis, but Hughesy's personal favourite comes from The Sports, one on a compilation called Debutantes and the other on the fabulous and scandalously out of print Missin' Your Kissin' Live + Studio Rarities.