Monday, 30 April 2012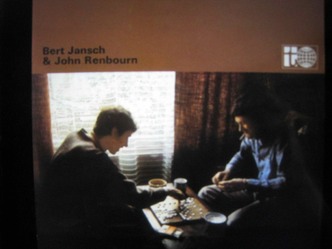 The fourth album in Bert Jansch's extensive canon, 1966's Bert And John was recorded with fellow guitarist John Renboun in the living room of the flat they shared in St Edmund's Terrsce, on the edge of Primrose Hill. While some of their peers (Davy Graham, for example, according to Electric Eden: Unearthing Britain's Visionary Music) were heading for the middle of the road and television exposure Jansch and Renbourn were still in the process of figuring out what was possible around the fringes. Renbourn had already been working with Jacqui McShee, with whom the duo would achieve major success in Pentangle, but here, in contrast to the reinterpretation of traditional material on Jack Orion, recorded around the same time, the content is weighted towards the jazz and blues side of the spectrum. 
It seems incongruous to have something called Piano Tune played on two guitars (and to be frank about it I can't hear this as a piano piece) but it, like most of the tracks on the album, is a Jansch - Renbourn co-write. The exceptions are the Charlie Mingus Goodbye Pork Pie Hat, Anne Briggs' The Time Has Come, Jansch's Soho and Renbourn's Along the Way. 
Joe Boyd in White Bicycles says he thought the likes of Bert Jansch and John Renbourn were just emulating American noodlers such as John Fahey and Sandy Bull, but there's actually a bit more than mere noodling going on here. 
Given the nature of things in the Little House of Concrete there's no guarantee that anything on this album will end up in the Top 1500 Most Played playlist, but at the same time anything on the album will, under the right conditions, slip through on the iPod without prompting a shuffle forwards.
Recommended if you're into fingerpicked guitar and want to check out an early collaboration between two of the best exponents of the genre.