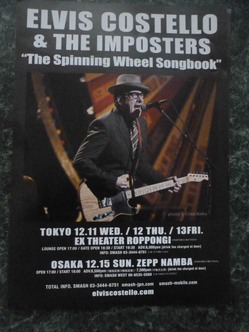 You can take the primary school teacher out of the classroom (and it has been just over eight years), but you can never get away from your past. Lying in bed waiting to drift off after a great show in a venue with some major irritants I was reminded of one of the old top-level organisers that ran under the moniker of PMI.
That's Plus, Minus, Interesting, which has, in this case been transformed, through The Good, The Bad and The Ugly  into The Great, The Could Have Been Better and The Downright Ugly.
Starting with the latter:
The Downright Ugly:
Which has nothing to do with Elvis, but everything to do with the venue's approach to the punters. Now, some of this seems to be standard operating practice when it comes to concerts in Japan, but three major gripes:
Getting into the venue: where every other venue I've been to had a ground floor point of entry. Here, rather than walking in through the door that opens off the vestibule at the front of the building, we were directed up a flight of steps, across the top of the building and back down a flight of steps into a marshalling area that is on the other side of the door that was the logical point of entry and was, it seemed, for the well connected. The average punter, who paid for his or her ticket had to go via the Cape.
Crowd control: Once in, the punters are herded by marshals with bullhorns operating at maximum volume to a point where you are up for:
The extra slug. A compulsory ¥500 slug for a drink, which might be standard operating practice in Japan, but had my Japanese partner complaining bitterly. Along with the bullhorn marshalling, all this meant that when retook our seats we were somewhat less than gruntled.