Friday, 15 March 2013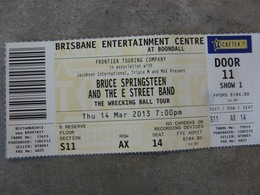 In some ways, I guess, you might expect a juggernaut to take a bit of time to get moving. inertia and all that, a need for time to gather momentum.
I wasn't completely blown away by the first couple of numbers in last night's Springsteen show, and it may have had something to do with the fact we're looking at a fifteen piece outfit coming off a three month break between tours. Takes a little bit of time to get things meshing tightly together and all that. I guess it happens.
Then again, it might be me. There were a couple of non-Bruce elements that impinged on the opening salvo from a quite magnificent outfit, and maybe it was more a case of Hughesy getting himself into the swing of things rather than Bruce and company needing time to get the gears meshing in the required manner.
I'd arrived in plenty of time, noted the existence of what looked like queues for the GA (non-seated) part of the house, and encountered an acquaintance from years back who has gone on to carve out his own little niche in the Music business. With the show allegedly due to start shortly after seven Watto cast an evaluatory eye over the situation and remarked that they'd be pushing to get things away on time.
In any case I was inside and seated comfortably before seven, watching from my space on the floor, trying to figure out why I wasn't where I thought I was supposed to be and wondering how long it was going to take to have them usher the crowd to their allocated seats once they'd deigned to leave the bar. By seven-thirty most of the crowd were in and seated, but there seemed to be a bit of coming and going. I hoped no one was watching and saying "Hang on, they're not all in yet."
That coming and going also reminded me that I really should have bought water on the way in. Do it now? Go back out, snaffle a bottle and probably miss the start? Be forced to negotiate my way back to the seat in the middle of the row past people out to max out their concert enjoyment? Naah. Sit it out and wait.