Given the fact that Scratch and the Black Ark recording studio are widely held to have headed off in inventive and innovative directions that no-one else has, even now, thought to consider (and again, we're quoting that website, but you'll find plenty of opinion along the same lines) these exclusive mixes never heard outside of sound system dances will probably have a sufficiently high coolness factor to attract the devoted aficionado if, like me, you don't mind a bit of this sort of thing thrown into your musical mix these two collections are close to essential listening.
If I was a more devoted fan I'd probably have been better off going for a hard copy rather than the $16.99 iTunes digital downloads since that version would deliver a treasure trove of rare photographs and informative sleeve notes by well-known reggaeologist Jeremy Collingwood.
So, in case you're interested, and being fully aware no one's likely to recognise anything listed below, what's on these two collections?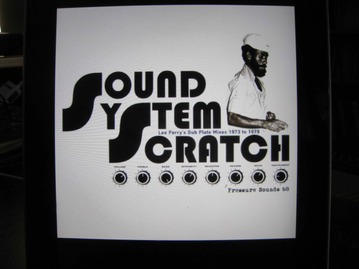 Sound System Scratch:
Lee Perry: Dub Plate Pressure
Augustus Pablo & The Upsetters: Lama Lava Mix One
The Upsetters: Groove Dubber
The Upsetters: Groove Rider
The Upsetters: Jucky Skank
The Upsetters: Chim Cherie (the first use of a drum machine in Jamaican music)
Lee Perry & The Upsetters: The Rightful Organiser
Lee Perry & The Upsetters: Stagger
Lee Perry & The Upsetters: Big Neck Cut
The Upsetters: Zeal Of The Lord
The Upsetters: Dub of The Lord
The Upsetters: Returning Wax
Winston Wright & The Upsetters: Bushdub Corntrash
Clive Hylton & The Upsetters: From Dub Four
Junior Murvin & The Upsetters: Roots Train Number Two
Lee Perry & The Upsetters: Locks In The Dublight
The Upsetters: Moonlight Version
Carlton Jackon & The Upsetters: Dub History
The Upsetters: Groovy Dub
Keith Rowe & The Upsetters: Living Dub