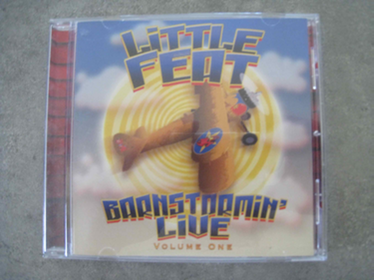 As far as the contents go, Barnstormin' Live Volume One has a fairly straightforward reading of Rocket in My Pocket, followed by a tasty trumpet (Fred Tackett) intro to Keepin' Up with the Joneses. Changin' Luck surges along just fine, with Shaun Murphy in characteristically fine voice, Spider's Blues is a spirited run through a relative obscurity and the album's showpiece comes in the form of One Clear Moment > Just Another Sunday, an extended fifteen minute workout through two of the best post-Lowell era tracks. Your mileage may, of course, vary, but this is how Hughesy likes his twenty-first century Feat (right down to the bit of Representing the Mambo thrown in round off Just Another Sunday). 
After that little tour de force you need a little light and shade, and Walkin' as Two provides just that. Sam Clayton growls his way through Little Walter's Last Night and Paul Barrere leads a languid quest to Roll Um Easy. The Blues Don't Tell It All lifts the tempo a tad or three before Why Don't It Look Like the Way That It Talk lands things back in the languid zone to close things out.
Overall it's a tasty sample that visits some of the less frequented quarters of the repertoire.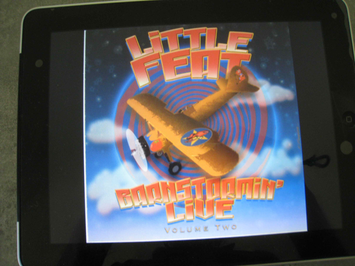 Barnstormin' Live Volume Two is a bit further away from the laid back side of things, opening with a jaunty Down on the Farm > Candy Man Blues before Bill Payne drops things back with a restrained reading of Under the Radar in its original rather than the subsequent reggae influenced incarnation. The restraint continues as Paul Barrere takes the vocal lead on Fool Yourself with a little vocal help from Fred Tackett and Shaun Murphy. It's a tasteful reading of one of those Feat numbers that tends to be overlooked in favour of the usual suspects (Easy to Slip is another one).
There's a rather nifty guitar, mandolin and understated swirling keyboards intro to Sailin' Shoes, and though Paul Barrere and Shaun Murphy go verse for verse through the song the version's close in feel to the original second album version. After a couple of slower numbers, a tempo change is probably needed, and it comes with a rollicking Night on the Town, before things drop back a notch for an old favourite in Apolitical Blues, with a bit of Muddy Waters' Long Distance Call inserted midstream. Shaun Murphy gets a spot of limelight for A Distant Thunder, and there's a jaunty reading of Down on the Farm's Six Feet of Snow. Bill Payne heads off Fighting the Mosquito Wars, and things are wound up neatly with A Day at the Dog Races, which Mr Barrere, judging by his comment at the end of the eleven and a half minutes, thoroughly enjoyed.