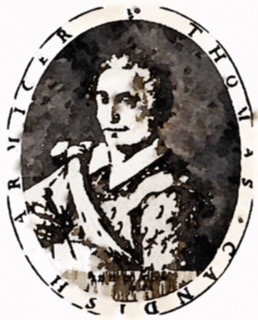 Thomas Cavendish, (c.1560—92) went on to command the third circumnavigation of the world (1586—8 in the Desire) after participating in Sir Richard Grenville's expedition to Virginia (1585)
After setting out with three ships in July 1586, he touched Brazil then coasted to Patagonia, experienced a challenging passage through the Straits of Magellan, burned three Spanish settlements and captured thirteen ships on his way to California. Having lost the other two vessels along the way, the Desire returned to England via the Philippines, the Spice Islands, the Cape of Good Hope, and St Helena. 
Although he came back with plenty of plunder, Cavendish went on to squander most of his fortune at Queen Elizabeth's court. He set out to repeat his Pacific voyage in 1591 but failed to pass through the Straits of Magellan and died off Ascension Island in the South Atlantic.