Then, of course, there's the 2006 Classic Clare Shiraz which made two wines in two days that we'd rated higher than the nameless, but quite pleasant hundred-plus dollar wine previously mentioned which we tend to use as a $100-plus benchmark. Up to this moment, the only other dry red in that price range we've been able to try was a Grange that's just a little too good to be used as a punches above its weight benchmark.
Highly impressed as we left Leasingham and headed south in search of lunch. The next port of call was Kirrihill Wines, which houses Salt 'n' Vines, our preferred option though we hadn't booked.
Kirrihill is owned by the same interests as a company that manages a hefty chunk (1300 hectares) of South Australia's vineyards which would, one suspects, have certain advantages when it comes to sourcing quality grapes for your wines. 
The Cellar Door had an informative attendant, and we were her only customers for most of our stay, so we benefited from detailed information about the wines on offer. That was handy since there were three ranges available for tasting. 
The $15 Companions (blends of Clare Valley and Adelaide Hills fruit except for 2008 Clare Valley Rose), the $20-$25 Single Vineyard Series and $29 Kirrihill Estates 2004 Clare Valley Riesling, a five-star wine which appears in my notes with a single word (Buy) beside it.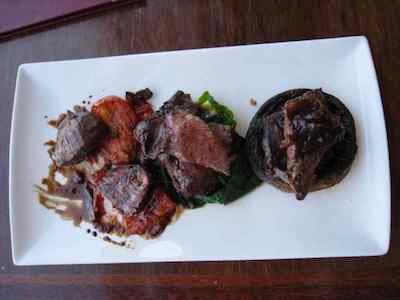 So we did. There was half a dozen waiting for us at the Post Office when we got home.
Of the Companions, the 2008 CV/AH Riesling Pinot Gris, 2006 CV/AH Cabernet Merlot and 2007 AH/CV Tempranillo Garnacha were particularly memorable, though everything on offer was much more than merely acceptable. 
At the price point, the Single Vineyard Series was outstanding with my preference going to 2008 Pinot Noir Rose Brut, 2008 Watervale Riesling and 2006 Clare Valley Baile An Gharrai Shiraz.
Having tasted close to the entire range, the prospect of a break over lunch had definite appeal, so we headed upstairs to Salt 'n' Vines. 
My Trio of Game Meats and Madam's Smoked Atlantic Salmon would have gone down nicely with a glass of something other than water, but She was driving, and I was temporarily tasted out.
Which was an important consideration.