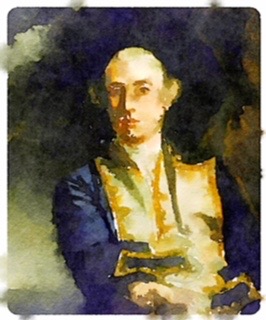 British naval officer Vice-Admiral John Byron (1723 – 1786), a.k.a. 'Foulweather Jack' due to frequent encounters with bad weather while he was at sea, was the grandfather of the noted poet Lord Byron. 
After joining the Royal Navy in 1731, he was a midshipman aboard HMS Wager in the squadron Anson took into the Pacific. His adventures after being shipwrecked on the coast of Chile in 1741 helped inspire his grandson's Don Juan, and he returned to England on parole via Santiago thanks to Anson's generous treatment of prisoners he had taken in the course of his voyage across the Pacific.  
After he was appointed captain of HMS Siren in December 1746, he commanded a squadron in Canadian waters during the Seven Years' War and defeated a French flotilla at the Battle of Restigouche.
In June 1764 Byron set sail for the Pacific in the frigate HMS Dolphin, accompanied by the sloop HMS Tamar, ostensibly to take over command of the Royal Navy's East Indies Station. 
The real purpose of the voyage, however, seems to have been to find a suitable site in the South Atlantic for a settlement that could resupply vessels round for the Pacific via Cape Horn. From the Horn, he was to sail west, keeping as far south as he could to locate the Great South Land that was thought to lie somewhere in the South Pacific between New Zealand and Cape Horn. 
After he claimed possession of the Falkland Islands, he set off for the South Land, but like everyone else before him, the westerly winds he encountered took him too far to the north. As a result, he crossed the Pacific without making any significant discoveries. Arriving in the Marianas in July 1765 and returning to England via Batavia to complete the fastest circumnavigation to date, taking twenty-two months to complete the circuit.
Byron's account of his circumnavigation appeared in The Narrative of the Honourable John Byron (1768), which sold well and was reprinted several times. He went on to become governor of Newfoundland (1769—72) and attained flag rank as a Rear Admiral in 1775. Byron served as Commander-in-chief of the Leeward Islands Station and, briefly of the North American Station during the American War of Independence and ended his career as Vice Admiral of the White.