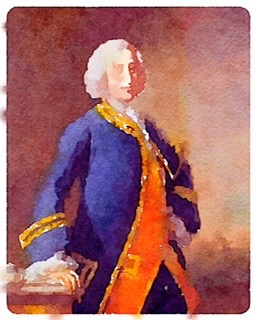 Having joined the Royal Navy in 1712, English naval commander George Anson, 1st Baron Anson (1697—1762), led the squadron of six vessels despatched to attack Spanish colonies and shipping off South America's Pacific coast in 1740. 
While he returned with one ship, and less than two hundred men in June 1744 after circumnavigating the globe, his share of the £500,000 in Spanish treasure aboard the vessel made him a wealthy man. 
He went on to command the fleet which defeated the French off Cape Finisterre in 1747, picking up a further share of some £300,000 prize money. 
As First Lord of the Admiralty (1751-62) and Admiral of the Fleet after 1761 he instituted significant reforms in naval administration and dockyard practices that contributed to Britain's naval successes in the Seven Years' War (1756—63)