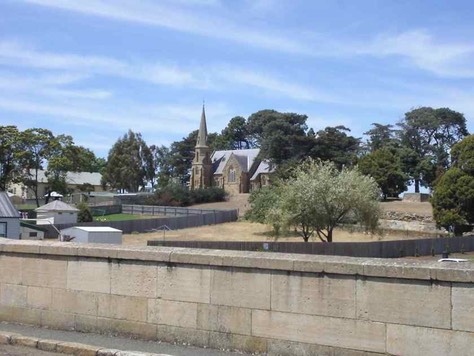 It seems Ross has not been adversely affected by modern tourism. The town is beautifully preserved, and while we were by no means the only tourists rubbernecking around the relics there was plenty of elbow room. 
What brought most of them to Ross was, of course, the convict-built stone bridge dating back to 1836. It might be the third oldest bridge still in use in Australia, but the highlight is the intricately carved work on both sides of the bridge. 
Just spectacular. It's no wonder the work won the stonemason Daniel Herbert a free pardon from his sentence.
After a wander round the village the simplest choice for lunch seemed to be a scallop pie from the bakery - an option we'd heartily recommend to anyone else visiting the vicinity.
With lunch out of the way we headed northwards and decided not to worry about the bridge at Campbell Town since Someone wanted to check out the National Rose Garden, located on the banks of the Macquarie River at Woolmers Estate in Longford.