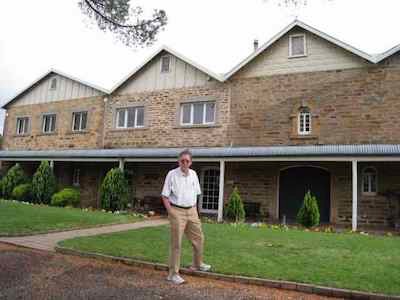 After polishing off the remaining breakfast ingredients, once we'd packed up and loaded the chariot, we headed off for a flying visit to Annie's Lane. After that, we planned to side-track through Mintaro, so Someone could get some photos of Martindale Hall en route to the Barossa.
When we arrived at the former Quelltaler Winery (nowadays Annie's Lane) we learnt the overnight weather had done more than rumble ominously. 
Significant power outages in between Clare and Auburn meant we were probably lucky to have progressed as far as we had. 
The morning's breakfast and ironing, in particular, would have been grossly hampered by lack of power.
The accommodation at Tuscany had come with a 20% discount voucher for use at Annie's Lane, which was, to be honest, the primary motivation for a visit (in case we ran across anything interesting, you understand). In the end, I ended up having a cursory taste of what was on offer.