Wednesday, 28 July 2010
Best known as a pedal steel player, multi-instrumentalist Bennett Keith Schaeufele (6 March 1937 – 26 July 2010), better known as Ben Keith, was a fixture on the Nashville country music scene before working with Neil Young.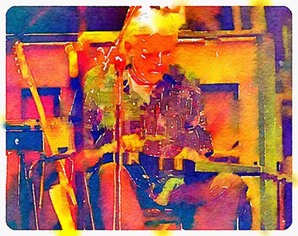 You'd have to say that he was one of the great, but unrecognised, side men.
Unless, of course, you're a Rustie (a member of the Neil Young on-line fan community) where news of Ben Keith's passing was initially greeted with comments along the lines of No way! and You're kidding! Sadly the reports proved to be true and a gifted player who linked some unlikely names in the course of a career that stretched back to the late fifties has left us.
Ben Keith was working as a studio musician in Nashville when he met Neil Young during the sessions for Harvest in 1971. He'd lived there since 1956, played pedal steel on many late 1950s and 1960s country classics, including Patsy Cline's I Fall To Pieces and was called in to play on the Harvest sessions on the recommendation of bassist Tim Drummond. Ben lived two blocks from the studio, and arrived to find the sessions already in progress, set up quietly and had played on five songs before the introductions were made.
Young was in Nashville to tape an appearance on the Johnny Cash Show and was planning to use the Harvest material as the basis of a live acoustic album, Live At Massey Hall 1971, later released as part of Young's Archive Performance Series.