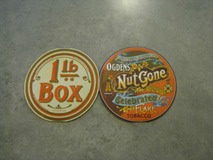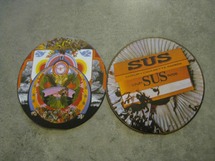 Which, when we start looking at Ogden's Nut Gone Flake, starts with the packaging, doesn't it? You start with the title, and the nod and a wink reference to what you're going to be mixing with the tobacco as you roll your own, and the one pound box on the back. For those unfamiliar with the old imperial measures, the sixteen ounce pound was the equivalent of about half a kilogram and, in case you were wondering, you (or rather they, I've never bought dope, so I'm working on what I've read and been told, you understand) bought your deal of grass by the ounce.
The circular sleeve mightn't have been the most practical enclosure for the vinyl, but it definitely stood out from the pack, and was a parody of Ogdens' Nut-brown Flake, a Liverpool-produced brand of tobacco dating back to 1899, hence the Victoriana packaging.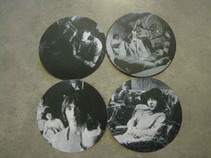 Open it out and you've got the inside of the tobacco tin, with the pack of SUS Luxury Cigarette Papers, nudge, nudge, wink wink on the right and a bit of period psychedelia on the left. Fold it out again and you've got the group portrait bit, all the while presenting something totally devoid of mundane items like track listings and assorted credits. 
My original vinyl copy of the album had the packaging fall apart after repeated handling, and the reissue I bought down the track had the original cover printed on the regulation white twelve inch square cardboard enclosure, so I've got no way of knowing (and I definitely can't recall after forty-four years) whether the credits under the Ronnie Lane panel on my three CDs in a tin reissue were there in the original.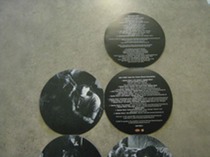 There are other bits and pieces thrown into that reissue, but let's stick to the original, shall we?
Setting the packaging to one side, it's the music that counts, and the music's very much a tale of two sides. From the opening instrumental title track, the Tin Soldier-clone Afterglow, Ian McLagan's Long Ago and Worlds Apart you've got an interesting collection of styles before you hit the Cockney docklands knees up of Rene (the dockers' delight, nudge, nudge), the proto-heavy Song of a Baker and the hit single in Lazy Sunday to round off the side. It's an impressive array of songs over a range of genres that ticks all the boxes when it comes to impressing the audience and your peers with impress your peer group with quality of writing, instrumental chops and vocal dynamics, with great R&B tinged vocals from Marriott, charming efforts from Lane and McLagan.