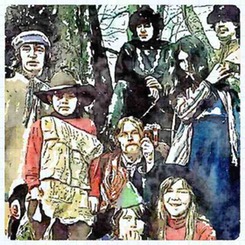 They're definitely an acquired taste, and one that none of my music freak acquaintances managed to acquire back in the day, which makes the fact that the band hit the Top 5 in the British album charts with The Hangman's Beautiful Daughter in 1968 a source of ongoing wonderment.
It was, of course, a time when the 7 inch, 45rpm single rather than the 12-inch album dominated the music market, but, like the famous International Poetry Incarnation at the Royal Albert Hall in London on 11 June 1965 and the 14 Hour Technicolour Dream held in the huge Great Hall of London's Alexandra Palace on 29 April 1967. Hangman's chart album success underlines the fact that there were a lot of alternative types out there at the time.
The String Band's origin dates back to the 1963 acoustic folk duo of Robin Williamson and Clive Palmer, who  began performing alongside Bert Jansch at a weekly Glasgow folk club run by Archie Fisher. The original duo became a trio when local rocker Mike Heron joined them in late 1965, shortly after the duo had been sighted by American producer Joe Boyd, who was soon to become the head of influential folk-based label Elektra Records' London office.
By early 1966, Palmer was running an all-night folk club, Clive's Incredible Folk Club, in Sauchiehall Street in Glasgow, and the trio became the house band. Incredible Folk Club, Incredible String Band.
Boyd signed them to Elektra, beating off a rival bid from Transatlantic Records and the trio's first album, The Incredible String Band, was cut in London in May 1966. It was the Folk Album of the Year in Melody Maker's annual poll, but the trio, which was probably never meant to be a permanent arrangement, broke up after recording the album. 
Palmer headed off on the hippie trail to Afghanistan and India, Williamson and his girlfriend Licorice McKechnie were Morocco-bound. Heron went back to playing rock with an outfit called Rock Bottom and the Deadbeats.