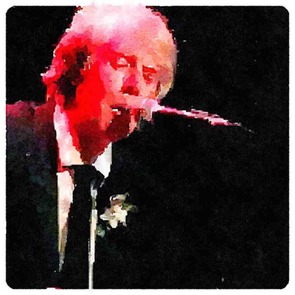 Sunday, 29 July 2012
Here's one that takes off the wall into a whole new dimension, folks, and reminds me there are whole slabs of contemporary music that I've been aware of for years but still need to investigate.
I was pointed towards this album by a post on Sal Nunziato's Blazing Wood blog. Sal was talking about seeing the latest lineup of NRBQ, an outfit I remember reading about forty-something years ago when they'd abbreviated the New Rhythm and Blues Quartet to the four initials.
But you can't, as I've frequently remarked, catch up on everything, and while I managed to lay my hands on their 1996 live (Tokyo) I've managed to negotiate my way through four decades aware of an outfit that has built up a considerable reputation as a live act and an extensive discography (twenty-plus titles at iTunes) and were the unofficial house band in seasons 10, 11 & 12 of The Simpsons without doing too much in the way of further investigation.
Guitarist Scott Ligon is one of the more recent additions to the ever-changing NRBQ line up, and this compilation of songs by his brother Chris was put together by long-term NRBQer Terry Adams, presumably selected from the eight other albums on his website. At fifteen dollars a throw plus shipping that back catalogue might attract some attention from those who have plenty of storage space on the CD shelves and happen to be flush with funds, but for the rest of us Look At The Birdy will have to do.
At least for the time being.
I'm not in the business of appropriating content wholesale from other sites, but in this case I'm inclined to quote Mr Nunziato's assessment of Birdy as one of the most bizarre little records I have ever heard, causing Sal to sit mouth agape, in a frozen stupor for 33 minutes straight. I didn't quite go that far, and I'm not sure I agree that Baby Books Bossa and Dr. Peanut (ahem) make the Bonzo Dog Band sound like The Archies, though the comment almost guaranteed I'd be making further investigations.
I'm a huge Bonzos fan, and sighting a comment like that was bound to pique my interest, compris?