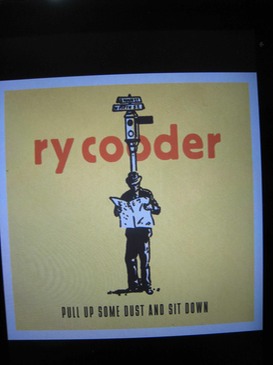 Saturday 31 December 2011
Having spent much of his career cutting other people's material (with, admittedly, his own slant thereon) you might have been inclined to think Cooder couldn't write, but the flurry of largely self-written albums that followed Chavez Ravine would have definitely put that particular furphy to rest. It's more a case of whether he's got something to write about,  and since he's a man of definite opinions there's plenty of subject matter out there at the moment. 
This time, after theme-based albums about Latino villages (Chavez Ravine), red cat labour activists (My Name is Buddy) and steel guitar players driving hot rods on the salt-pans  (I Flathead) we've got a collection of songs that take a look at some current themes from a left-liberal perspective. 
Starting with No Banker Left Behind, which sees all the bankers catching the next train out of town and taking all the money with them to the  closing No Hard Feelings, which effectively (very effectively) rewrites Woody Guthrie's This Land is Your Land we've got a variety of topics from the ghost of Jesse James, illegal immigrants crossing into Arizona (Quicksand), the jobs they get once they're there (Dirty Chateau), the Deity's view of humanity (Humpty Dumpty World, If There's a God), American military adventurism (Christmas Time This Year, Baby Joined the Army) right wing union busters (I Want My  Crown) and channels John Lee Hooker (JLH for President).
 Impeccable guitar work as usual, Flaco Jimenez on accordion, son Joachim on drums and his regular gospel-based backing vocalists in there as well, the result is an album that's up there with the best of his extensive discography.
Links: