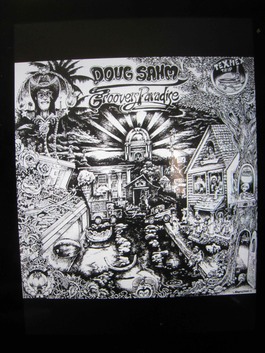 Wednesday, 29 February 2012
After his collaborations with Jerry Wexler and an all-star cast on Doug Sahm & Band and Texas Tornado failed to do the job Doug Sahm aligned himself with the Creedence Clearwater Revival rhythm section (Doug Clifford, drums, and Stu Cook, bass) and the result is a collection of songs espousing the glories of the Texas hippie lifestyle that skip across generic borders through pastoral blues, R&B, rock, country, norteño, with a dash of Cajun through multi-instrumentalist Link Davis Jr's Cosmic Cajun Trips. From the opening choogle of Groover's Paradise the theme's obvious and while there are people out there with a Devil Heart there are always Houston Chicks to soothe the soul of a dude who's done what he's done For the Sake of Rock 'N' Roll!  
You might reckon there's a tongue firmly wedged in cheek here, but a read through Texas Tornado (Jan Reid with Shawn Sahm, University of Texas Press, 2010) reveals not only did Sir Doug live the rock'n'roll lifestyle to the hilt, he did it without doing an actual day's work right up to his death aged 58 in November 1999. On that basis he had plenty of time to enjoy the Beautiful Texas Sunshine, while a long term residential address close to legendary Texas waterhole the Soap Creek Saloon would provide ample opportunity to Just Groove Me and an abundance to prove that Girls Today (Don't Like to Sleep Alone). 
We're not talking politically correct here, folks.
There's the cheerful brass driven La Cacahuata, a touch of wistfulness on Her Dream Man Never Came and while these things don't always work out the way they should, and you can have nights when the keg is hard on your head, if you Catch Me in the Morning we should be able to sort out a few things the singer now regrets. 
Throughout the album we're looking at a guy who's been there, done that, wrote the book and is waiting to star in the movie (he released his first record at the ripe old age of eleven back in 1952) and has an instinctive mastery of the genres he's exploring. That doesn't mean everything he turns his hand to works out the way it should, but when it does there aren't too many who can deliver the same good time vibe with the same joyous groove. 
On Groovers Paradise it's present in abundance.