Friday, 31 December 2010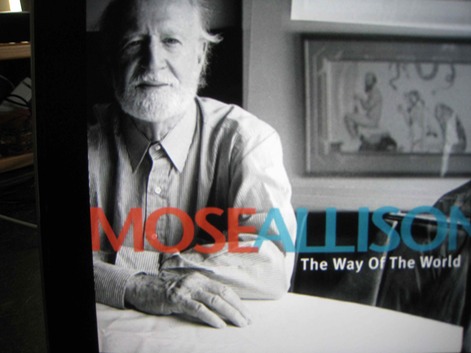 While there's something incongruous about The Who continuing to perform My Generation on stage (it was still in the set-list on their Australasian tour in early 2009) you'd reckon Mose Allison would be pretty safe with Young Man Blues. While a glance at the set-lists over at db.etree.org doesn't reveal a recent performance, A young man ain't got nothing in the world these days is probably still an accurate assessment.
Hope I die before I get old, on the other hand, doesn't seem quite right coming from a sixty-something. I mean, maybe you do, but as I look at the big six-oh on the horizon I'm not quite ready to go yet, and while he's coming up towards eighty-three, hopefully Mose Allison is going to stick around for a bit longer. 
There's definitely a niche out there for hip older dudes with a wry take on life-related matters. The Way of the World is Allison's first studio recording since 1997's Gimcracks and Gewgaws and hopefully there won't be a lengthy interval before someone manages to coax him back into a studio somewhere. 
With an extensive discography dating back to 1957's Back Country Suite,  I'm hardly likely to be au fait with the whole of an extensive oeuvre, but The Way of the World sits comfortably alongside what I have heard, from the opening My Brain (Little Walter's My Babe with a lyrical twist) to the concluding This New Situation, with a wry take on Loudon Wainwright's I'm Alright along the way as well as a well-aimed shot at the world's fundamentalists in A Modest Proposal. It's been on high rotation in these parts and comes highly recommended. Now, about that lengthy back catalogue....