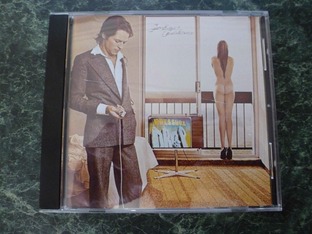 Thursday, 13 March 2013  
Which is where we discover Toots Hibbert's given name is actually Frederick, boys and girls.
That's what the writing credits from Robert Palmer's second solo album tell us, anyway. 
Contrary to what I originally believed, the album was apparently recorded in four separate locations with sessions starting at George Massenburg's studio with Little Feat enlisted to deliver the backing. Sneakin' Sally had featured Lowell George with The Meters, but here Palmer had the services of the whole of one my favourite bands with Fran Tate (later Mrs Bill Payne) thrown in on backing vocals for good measure.
The second lot of sessions seem to have taken place in Los Angeles with James Jamerson and members of the Wrecking Crew, with a third round in New York City with noted session drummer Bernard Purdie, though Jamerson is the only one who gets a mention in the credits in the CD sleeve or the Wikipedia entry. Final sessions at Alabama's Muscle Shoals added the Muscle Shoals Horns to the mix and the liner notes.
Palmer doesn't quite match Toots' joyous yelp on the title track, but then no one I've heard manages to do that. No shame there, folks.
And not much shame in a bit of old double entendre, which arrives in a fairly solid serve in the Philly soul string drenched Give Me an Inch and the downright funky Work to Make It Work. You don't have to stretch the imagination too much to get the innuendos, give me an inch and I'll give you a mile and Push it along/ Work to make it work don't leave you in too much doubt about what's going down.
There's a vocal round at the start of Work To Make It Work that resolves into a pleasantly funky clavinet-driven groove, and the theme's continued through Back In My Arms with the Gene Paul orchestrations back in the foreground as Palmer croons seductively over a James Jamerson bass line.