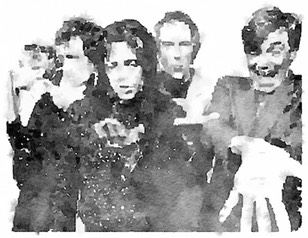 It wasn't totally obvious at the time, but there seems to have been a degree of commonality when it comes to experiences of various figures who shot to prominence in and around the punk and New Wave explosion in the late seventies. 
One could even extrapolate things just a tad further and suggest a commonality among those dudes and a bloke sitting in Townsville in the early stages of what he's inclined to label The Wilderness Years.
Much of the ennui that permeated the era was a desire to get oneself back into the state of heightened excitement at fresh musical discoveries that was part of the experience of teenage years between 1965 and 1968. 
Things had settled down after that, but having gone through it once some of us were inclined to go looking for that buzz factor, that Wow! Did you hear that? It came with, among other tracks A Whiter Shade of Pale or Tin Soldier or the Vanilla Fudge's take on You Keep Me Hanging On.
In contrast, by the early seventies, things were becoming increasingly homogenised as bands we later came to see as dinosaurs put together musical statements that were heavy on ponderous significance and relatively light on for Wow! factors.
But, scattered across the global landscape there were semi-isolated scenes that operated on their own terms. Pub rock in London was one, the New York scene that gave us Blondie, Television and The Ramones was another. Kent State University art students were devolving into Devo in Akron, Ohio, where Chrissie Hynde was saving up the wherewithal to move to London and work for New Musical Express.
One could cite all sorts of other examples, but the key point is that you had any number of isolated scenes drawing on the same influences scattered across the globe and more or less waiting their time.