Saturday , 21 April 2012


Boubacar Traoré Mali Denhou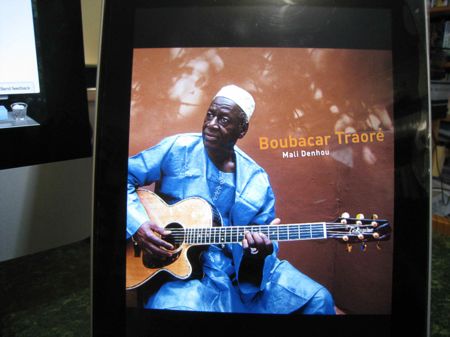 Reading about Boubacar Traoré I couldn't help thinking there were parallels with the lives of some of the old Delta blues men. Not the likes of Howlin' Wolf and Muddy Waters, the guys who packed up and headed to Chicago, hitting the relative big time plying clubs on the South Side before gaining national exposure when the Rolling Stones and their cousin brothers exposed the blues to a wider audience, I'm thinking here of the likes of Son House, Mississippi John Hurt, Skip James, Bukka White and Robert Pete Williams.
Son House recorded for Paramount in 1930 during a session for Charlie Patton, drifted into obscurity through the thirties, re-emerged to be recorded for the Library of Congress by John and Alan Lomax in 1941 and '42, then moved to Rochester, New York, where worked as a railroad porter and chef until Dick Waterman tracked him down in 1964.
Mississippi John Hurt was a sharecropper, playing local dances and parties before cutting sides for Okeh in 1928. They weren't hits, so Mississippi John continued to work as a farmer until a Washington blues enthusiast tracked him down in 1963 and persuaded him to move to Washington and record for the Library of Congress. He played the 1964 Newport Folk Festival, hit the coffee houses and concert halls of the early sixties folk revival cut three albums for Vanguard Records.
Nehemiah "Skip" James sharecropped, helped build roads and levees and sold bootleg whiskey around Bentonia, Mississippi, recorded for Paramount Records in 1931, drifted into obscurity and was rediscovered by John Fahey, Bill Barth (The Insect Trust, co-founder of the Memphis Country Blues Society) and Henry Vestine (Canned Heat) in a hospital in Tunica, Mississippi in 1964. The usual round of folk and blues festivals, concerts and recording followed and Cream's recording of his
I'm So Glad
provided the only windfall of his career.
Booker T. Washington
Bukka
White, second cousin of B.B. King, had a similar story before being rediscovered working in a tank factory in Memphis, thanks to a letter addressed to
Bukka White (Old Blues Singer), c/o General Delivery, Aberdeen, Mississippi
that was forwarded to his new address. John Fahey and ED Denson wrote the letter, and Bob Dylan had covered
Fixin' to Die Blues
in 1963, a number he'd come up with on the spot when his other material had failed to impress at a record session some thirty years earlier.
Robert Pete Williams, whose
Grown So Ugly
turned up on the first Captain Beefheart album (
Safe as Milk
, 1967), played music and worked in the lumberyards around Baton Rouge before a life sentence for a killing in a local club in 1956 led to his discovery in the
Louisiana State Penitentiary by a pair of ethnomusicologists.
Compared to those stories the Boubacar Traoré saga starts off much more promisingly.
Fifty years ago, having taught himself the guitar, which he plays as if it were a
kora
(or learned from his brother, but don't let the facts get in the way of a good story) he was playing clubs, the Malian Elvis Presley as Mali became independent. Thanks to radio airplay (
Mali Twist
was played on the national station every morning and regularly through the rest of the day) he was a celebrity with what amounted to hit records (
Mali Twist
,
Kar Kar Madison
, with the
Kar Kar
or "Dribbler" coming from his prowess as a footballer until injury ended a promising career).
Then, on 19 November 1968 a coup deposed President Modibo Keïta, all political activity was banned, informers monitored opposition figures and Malian equivalents of Elvis Presley were presumably surplus to requirements. As a result, for close to twenty years Traoré worked as a tailor, farmer and shopkeeper, a series of random jobs until a surprise television appearance in 1987 hinted at a revival. That was quickly quashed when his wife died in childbirth, and Boubacar moved to France to work on building sites.
So, working in France after a gap of more than twenty years after the coup, Traoré started recording. His first actual album,
Mariama
, appeared in 1990, followed in rapid succession, by
Kar Kar
(1992),
Les Enfants de Pierrette
(1995) and
Sa Golo
(1996). Things slowed down a little after that, with a four-year gap to
Maciré
, three to
Je chanterai pour toi
and
The Best of Boubacar Traoré: The Bluesman from Mali
and another two to 2005's
Kongo Magn
i.
Mali Denhou
is his first album in six years and assuming it's a representative sample of the man's style, the rest of the back catalogue would appear to be worth checking out.
You wouldn't be expecting the harmonica to be a key element in indigenous West African music (it was, after all, only invented in its modern form in the 1830s) and the player here is french rather than African, but Vincent Bucher adds light and shade to Traoré's laid back acoustic guitar, Mahamadou Kamissoko's
n'goni
, Madieye Niang 's calabash and Fassery Diabate's balafon.
As is invariably the case in these circumtances you don't have a clue what's going on lyrically (no digital booklet with the iTunes download, and I didn't go too far looking on the interwebs) but there's a relaxed, contemplative groove throughout, laid back vocals, the odd recognizable proto-blues riff here and there with the whole combining to deliver a sense of Zen resignation. The harp underlines the links to the blues while the West African elements lope along in a manner that's not entirely dissimilar to his Malian peers Ali Farka Touré and Toumani Diabaté but not quite in their footsteps either.