Wednesday, 14 December 2011


Various Artists
Heavy Sugar: The Pure Essence of New Orleans R&B Parts 1, 2 and 3"; Heavy Sugar Second Spoonful: More Pure Essence of New Orleans R&B
(all titles 4.5* for New Orleans fans, 3.5 otherwise)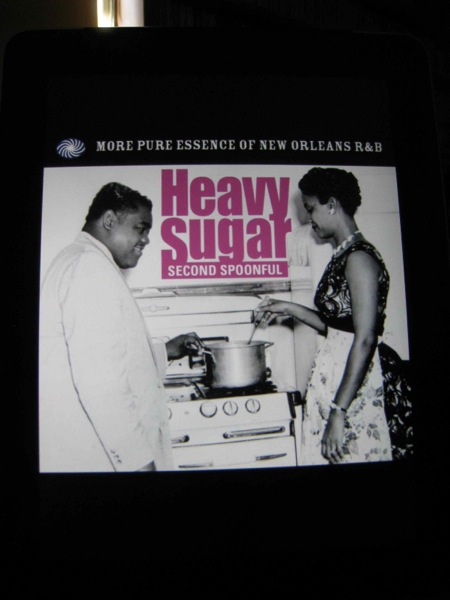 The casual visitor to The Little House of Concrete, where these four sets are on high rotation might counter Hughesy's enthusiasm for the joys of New Orleans R&B with well, Hughesy, that's all very well but deep down it's just old style rock'n'roll isn't it?
And the casual visitor would, in part, be right. Much what we've come to know as old style rock'n'roll originated in recording studios in and around New Orleans. If the visitor still isn't convinced I'd offer two names - Fats Domino and Little Richard.
Those two names say a fair bit about what happened as that first wave of R&B boomed out over the late night airwaves on stations like Nashville's WLAC where the daytime playlist was aimed at white audiences.
After dark the station beamed rhythm and into thirty states from the Gulf of Mexico and across the Caribbean to Jamaica, as far north as Buffalo, New York, and west to the foot of the Rockies, reaching the ears of, among others, Bob Dylan, The Band's Robbie Robertson, Rick Danko, Richard Manuel and Levon Helm. Mother Earth singer Tracy Nelson, growing up in Madison, WI was another listener.
It wasn't long before Fats Domino was being firmly set in the mainstream, close enough to white bread to avoid being pushed to the sidelines (though one notes the frequency of white bread covers of Fats' material) and ending up as a fixture in Las Vegas. Those interested in pursuing the subject are respectfully pointed towards Rick Coleman's excellent
Blue Monday: Fats Domino and the Lost Dawn of Rock 'n' Roll
.
Little Richard may have grown up in Georgia and started recording for the Houston-based Peacock label (ironic, that, you'd be pushed to find a better descriptor than
peacock
when it came to Richard's stage presence) before moving on to Specialty (based in Los Angeles) .
His biggest hits were cut at Cosimo Matassa's J & M Studio in New Orleans with studio players who had worked with Fats Domino (drummer Earl Palmer and Lee Allen on sax for starters) rather than using his own road band.
For both Fats and Richard, recording for labels with a wider distribution brought success that wasn't possible for some of their Crescent City peers.
There are half a dozen offerings from each scattered through the hundred and fifty tracks here, and the enthusiast who wants to explore either man's extensive catalogue would be best advised to head elsewhere. There's an almost bewildering array of Fats Domino compilations out there, and Hughesy's copy of
The Fat Man
box set, acquired fifteen or so years ago is comprehensive enough to save me the effort of investigating those options further, and if I need more Little Richard there's always the ninety track
The Complete Rock'n Roll Years '51-57
for $9.99 at iTunes.