Monday, 6 December 2010


Dr. John And The Lower 911
Tribal
(4*)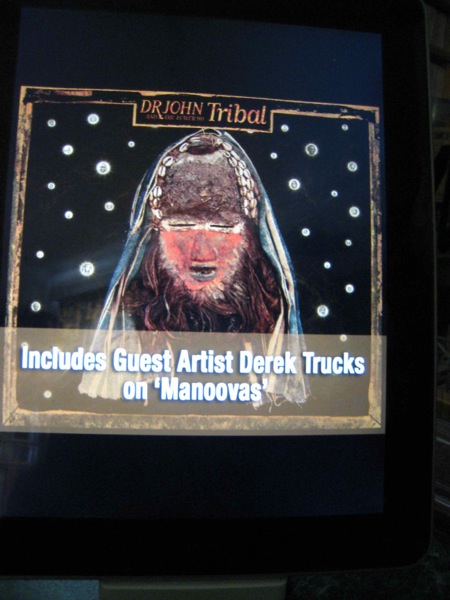 In his latest effort New Orleans stalwart Mac Rebennack reworks the New Orleans
fonk
that's always been at the heart of his work, and does it this time around with an eye to contemporary issues.
He's been known to veer away the Crescent City from time to time, but this time around along with The Lower 911 (John Fohl on guitar, bassist David Barard and percussion section Kenneth "Afro" Williams and drummer Herman "Roscoe" Ernest III) he's back in the territory he was working back in the seventies with
In The Right Place
, with new material rather than the
New Orleans Greatest Hits
approach employed on
Gumbo
and
Goin' Back To New Orleans
.
Your reaction to the album is, I suspect, likely to be shaped by how you like your Rebennack. I've got no problem with the new material, but although it grooves along nicely it's not the most memorable set of tunes he's put together. The Lower 911 aren't quite The Meters but they're not too shabby either, and anything that comes with a guest appearance from Derek Trucks (on
Manoovas
) is bound to attract Hughesy's attention.
The result is an album which echoes elements from throughout the Doctor's career, and while it's not as overtly political as his immediate post-Katrina work there's a touch of social commentary in tracks like
Only in Amerika
and
Whut's Wit Dat
to go with
A Place In the Sun
and
Good Time Music
.
There are co-writes with Bobby Charles (
Tribal
,
Change of Heart
and
Potnah
) Harold Battiste (
Music Came
) and Allen Toussaint (
Big Gap
and
Them
), and Mardi Gras Indian chants (
Tribal
) to go with the voodoo rhythms and overall chunky funky vibe in what could well be described as a melting pot of musical styles. Sitting still isn't the easiest of options while this one's playing.
While he's no spring chicken (he is pushing 70 and his appearance at this year's Wanee Festival (which I caught on Moogis) suggested he's starting to become rather frail, but there's no sign of weakness or obvious decline in his powers as far as the writing, playing and vocalising are concerned. He's not going to be around forever, and if the lifestyle he details in his autobiography are accurate it's a minor miracle that he's made it this far.
If you're into keyboard driven New Orleans R&B this is more than worthy of attention.