Sunday, 25 July 2010


Spirit of John Morgan (3.5*)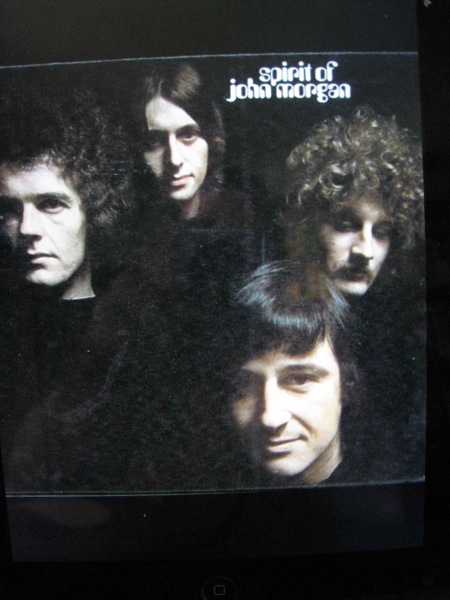 Yorkshiremen aren't widely perceived as the most light-hearted occupants of the British Isles, but underneath that characteristic dour exterior there has to be a sense of humour somewhere.
There's not a whole lot of information about the Spirit of John Morgan out there, so there's no way of knowing whether we're talking genuine Tykes, but there's no question about the sense of humour that takes the album's showpiece, the ten-minute
Yorkshire Blues
and places it in the same territory as the Bonzo's
Can Blue Men Sing The Whites
and the Liverpool Scene's
I've Got Those Fleetwood Mac Chicken Shack John Mayall Can't Fail Blues
. There's also a driving piece titled
Orpheus and None for Ye
.
This is another album I first encountered through my mate Eric, and for some reason
Yorkshire Blues
held down a slot in Hughesy's memory banks long after the rest of the album faded into dimly remembered obscurity. A sighting on a blog site prompted a download, and the subsequent listening had me searching the album out on iTunes, where it set me back $10.49 for a solid slab of late-sixties keyboard driven rock with jazzy R&B flourishes, hardly surprising given reports that keyboardist John Morgan was a Graham Bond aficionado.
The album opens with
Phantom of the Opera
organ that leading into Bond's
I Want You
, which churns along nicely and is followed by a take on Meade "Lux" Lewis'
Honky Tonk Train Blues
which wouldn't be out of place on a New Orleans piano compilation.
She's Gone
is back into the driving keys-based jazzy R&B, as is the aforementioned
Orpheus And None For Ye
.
The Yodel
has the organ up front, while we're back with piano boogie for Albert Ammons'
Shout for Joy
and
Ride On
choogles along in a perfectly acceptable mid-tempo.
But it's the albums magnum opus, the ten minute
Yorkshire Blues
that prompted the reinvestigation, and while I guess there are those who'll find it a little too
black face
for their liking I can't help thinking it sits comfortably alongside the aforementioned takes on the
white English boy with de blooze
phenomenon.
And it provided the excuse to dig around for what's, in the end, a rather good little album. I'm glad I made the effort.