Monday, 19 July 2010


Derek Trucks Band
Roadsongs
(4.5*)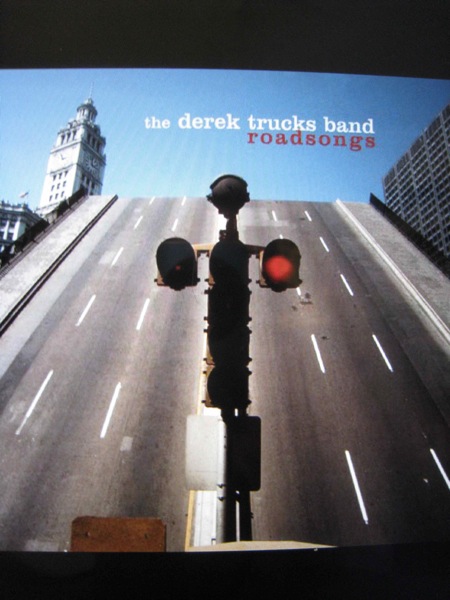 Now that he's into his thirties, there's no way Derek Trucks is eligible for a start in the
Spring Chicken Stakes
, and he's come a long way since I first heard of this crash hot slide guitar
wunderkind
back in the late nineties, and with the prospect of many productive years ahead, it'll be interesting to see where he ends up.
Apart from a stint in Clapton's band and eleven years with the Allman Brothers, Derek's most significant work comes through his long-term gig with the Derek Trucks Band.
Roadsongs
, the latest two disk live recording from the band doesn't contain much new material, but with Derek having put the band on ice for a year (at least) while he tours a collaboration with his missus, Grammy-winning singer Susan Tedeschi, who's no slouch with the guitar herself, it may be the last we hear from this line-up for some time.
Having had a couple of listens to the live set by the new Derek Trucks & Susan Tedeschi Band, I'm not totally convinced by the new material and the changed setting, but as far as
Roadsongs
is concerned we're on familiar well-documented territory.
Recorded over two nights at Chicago's Park West,
Roadsongs
is a good summary of where Derek and long term band mates bassist Todd Smallie and drummer Yonrico Scott along with more recent additions to the line-up (vocalist Mike Mattison, keys/flute ace Kofi Burbridge and percussionist Count Mbutu) have landed after a lengthy musical journey.
If what's on offer here is the sort of thing that floats your boat, there's a veritable ocean of material at archive.org (
http://www.archive.org/details/DerekTrucksBand
) and you might well question whether this release is worth acquiring.
Now, from an ethical and politeness point of view, the answer, of course, is
yes
. Part of the deal with allowing access to unofficial recordings is that you really should be buying the official releases, but apart from the fact that you won't find these performances over at archive.org there are several good reasons to cough up the bucks for
Roadsongs
.
Much of the set is drawn from
Already Free
, which was, as far as I was concerned, a rather subdued effort. here, those tracks have had a little more road exposure and come across with considerably more wallop.
Second, there's another ingredient in the mix this time around with the addition of a three man horn section that adds light and shade without intruding too much on the trademark DTB sound.
Most importantly there's the subtle differences between these performances and the previous versions. We're not, after all, looking at an outfit that plays the same set-list the same way night after night. The best example of that is the difference between the
Afro Blue
on offer here and the one that was one of the highlights of 2003's
Soul Serenade
(actually recorded several years earlier). That version starts with a rather wonderful little
ring-a-roses
chase between Kofi Burbridge's flute and Trucks' guitar, now, around ten years later we've got an intro that's in the same postcode but operating out of a different residential address.
It's the instrumental prowess that comes shining through here, though Mike Mattison's throaty vocals are an integral part of the mix as well. While there's plenty of light and shade there there's also the trademark Trucks sonic squall as the intensity rises and the slide riffs blur.
Outstanding stuff, and, as always, more please!