Thursday, 5 August 2010


Lisa Miller
Car Tape 2
(4*)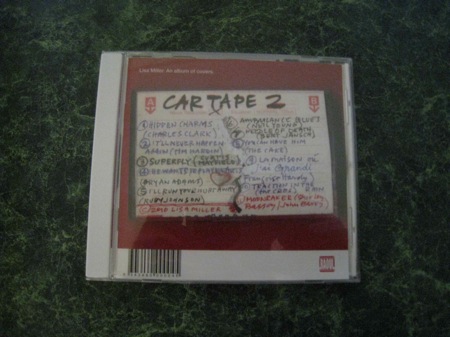 Hughesy's initial exposure to Melbourne singer/songwriter Lisa Miller came through covers of
Are You The One That I've Been Waiting For
and
It's A Long Way To The Top
on a live CD called
RRRewind In The Chapel
, and while both were fairly straight readings of a couple of Oz Rock classics, they suggested Ms Miller has a way with cover versions. That impression was reinforced by a classy reading of
Hickory Wind
on 2004's
Pushover
EP, much of which is made up of live recordings from Lisa's opening spot on Neil Young's 2003 Australian tour.
Along the way, mixed in with a couple of albums of original material, there have been two collections of covers in the
Car Tapes
series. The first, released in 2002 turned up on a couple of play lists, including the
DIG On The Radio
broadcasts on ABC Local Radio over summer, and was, if I recall correctly, rather impressive with an interesting range of rather obscure covers. Had I run across a copy I could well have shelled out the shekels, but that eventuality failed to eventuate.
Faced with an expiring subscription to
Rhythms
magazine in June 2010, however. I found myself logging on to the website to re-subscribe and discovered the freebie they were giving away to subscribers was
Car Tape 2.
Fine
, I thought,
the first one wasn't too bad at all
and there's that old thing about gift horses and their mouths. Now, after a couple of listens I've strolled over to check the availability of
Car Tape
, and at $16.99 I'll be pressing the
Buy
button in the very near future.
While the
Pushover
EP was an impressive affair, I've really been really and severely impressed by
Car Tape 2
.
If you're familiar with the opening
Hidden Charms
from the Elvis Costello cover (a fairly straight reading on 1995's
Kojak Variety
) you won't recognize it here. Miller reworks it drastically, slows it down and when the recognition factor kicks in around the chorus I was convinced that we were on a winner.
The second track, Tim Hardin's
It'll Never Happen Again
is a reasonably straight reading, but if you're expecting a funky workout on Curtis Mayfield's
Superfly
, think again. The version here would sit fairly comfortably on a Stephen Cummings acoustic album, but that's not surprising given the presence of long-time Cummings associate Shane O'Mara in the producer's chair and on guitar duties. Ryan Adams'
He Wants To Play Hearts
explores similar territory while Ruby Johnson's deep soul
I'll Run Your Hurt Away
gets a heftier reading without straying too far into R&B territory.
Neil Young's
Ambulance Blues
and the Bert Jansch track (
Needle Of Death
) that Neil pinched the tune from get side-by-side predictably moody readings, before we're back into jauntier territory for The Cake's
You Can Have Him
, which doesn't come across as a major slice of heartache.
There's nothing in the title of
La Maison oú j'ai Grandi
(the Françoise Hardy version) that makes you think of Verdelle Smith's classic
Tar and Cement
, but on this evidence I think I'll go for the
version francaise
, thanks very much. A very classy reading. The final couple of tracks,
Traction In The Rain
and
Moonraker
(yes, the Shirley Bassey/John Barry James Bond theme) wrap things up rather nicely.
A very classy collection of impressive covers that had me setting off towards the iTunes Store for
Car Tape
. If I was still doing the community radio thing the two albums would be providing a substantial chunk of Aussie content for Hughesy's playlists.
Try it. You won't be disappointed.