Thursday, 30 September 2010


Wingless Angels
(4*)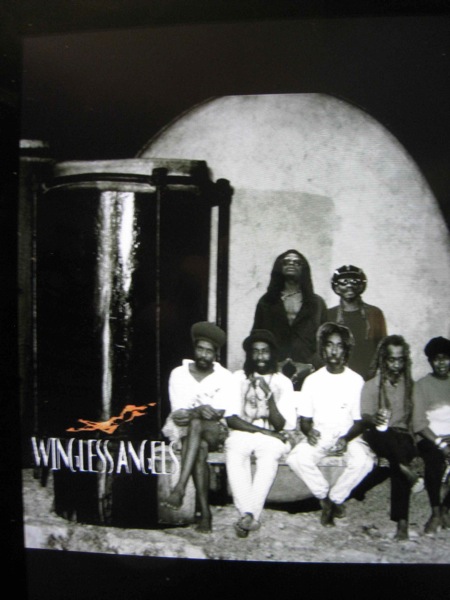 Now that Hughesy's New Listening Paradigm is starting to work the way it should I can finally get around to dealing with some of the backlog of stuff that needs a review, and I can't think of too many albums I'd want to look at before this collection of Rasta chants and burru drumming from Justin Hinds and friends.
When I went looking for the origin of the purchase decision (I was sure I'd read about the album in
Mojo
's
Filter: Buried Treasure
or its
Uncut
equivalent) a check of eighteen months worth of
Mojo
review indexes drew a blank, so I have no idea how and when this album, recorded in 1995, originally released in 1997 and reissued in 2003 and 2008, ended up on the
buy these
list.
The story behind the recording had, however, quite a bit to do with it, and dates back to the Rolling Stones sessions in Jamaica that produced
Goats Head Soup
, which was, coincidentally, the last Stones album Hughesy would consign to the
pretty passable
basket. There hasn't been a great deal to attract my attention since.
Following those sessions Keith Richards bought a house in Ocho Rios, where he ran across Justin Hinds and the
nyahbinghi
drumming collective which formed the basis of
Wingless Angels
, recorded in Keith's back yard (you can hear the ambient insects between tracks). There are a few subtle overdubs, but the guts of the album lies in the unison vocal chants and hand drumming of Hinds and friends.
It's very much a case of what you're into here, and there are undoubtedly those who'll find the mixture of hymns and traditional tunes with not quite there harmonies and thudding percussion uninteresting. When one of the tracks turned up in the background while Warbo and the Dragon Lady were on the premises they thought it was something out of the Torres Straits, so if that sort of thing floats your boat, look no further.
I've had an inclination towards this sort of thing since my days on the Palms, so I can see exactly where Warbo was coming from. In the intervening years I've encountered the occasional Rasta chant (Bob Marley's
Rastaman Chant
being a prime example) and this fits comfortably into the same groove.
Recommended if you're into that sort of thing.
Need a sample? Rock on over to the iTunes store, find the album and take a sample of
Enjoy Yourselves (It's Later Than You Think)
.
$16.99 at iTunes, as is
Wingless Angels II
.