Saturday, 13 November 2010


Los Lobos
Tin Can Trust
(4*)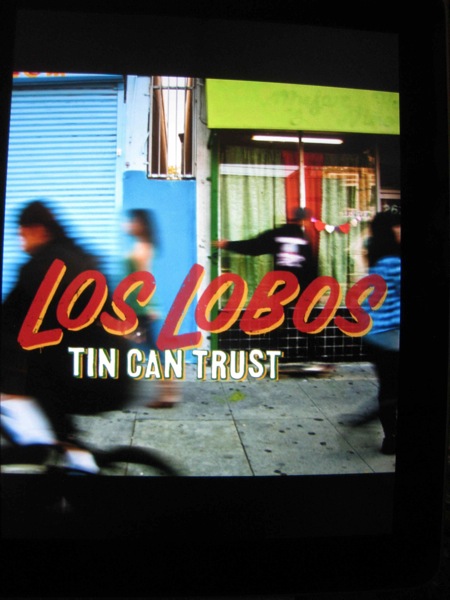 You'd figure an outfit that's been recording, performing and touring for over thirty years would be doing something right, but when I mention Los Lobos to somebody the usual reaction is, Yeah,
La Bamba
, followed by a shrug and what amounts to more or less instant dismissal. Not even an
Are they still around?
Not only are they still round, but
Tin Can Trust
is the nineteenth album in a career that has stretched way beyond the soundtrack to a movie about a Latino rocker (which would make twenty albums if the Wikipedia bibliography listed it under
Albums
rather than
Soundtrack and compilation appearances
).
Recording is, of course, only a part of what needs to be done to keep a musical operation running and a glance at this year's entry on the Los Lobos setlist database reveals a lot of shows, and a close look at the set-lists reveals an interesting mix of numbers stretching back through a lengthy career.
A new album every couple of years would, you'd figure, be a case of having something new to add to the merchandise booth at the show rather than a hope or expectation of achieving mega-platinum status and being able to retire from the rigours of life on the road.
A Los Lobos album will almost invariably represent another collection of well-crafted material, performed by a band who should, by this stage, be able to operate on an almost telepathic level. There are about ninety shows on the etree Bit Torrent site for those who are into that side of things, but downloader etiquette suggests that if you're going to download the shows for free you should be buying the albums to support the band.
So should you buy the albums, even if you're not a downloader?
If you're into what falls under the catchall Roots Music label, sure. You'll invariably find an interesting listen, blending Latin, rock, blues and assorted other elements into a seamless entity that works on a number of levels.
From the opening
Burn It Down
through another ten tracks, including a cover of the Grateful Dead's West
L.A. Fadeaway
, there mightn't be anything that's substantially different from what's gone before, but when you're a fan of what's gone before that's hardly a sticking point.
Another album of well-crafted songs that ensures Los Lobos remains on Hughesy's automatic
buy everything this band puts out
list.