Saturday, 4 December 2010


Texas Tornados
¡Esta Bueno!
(3.5*)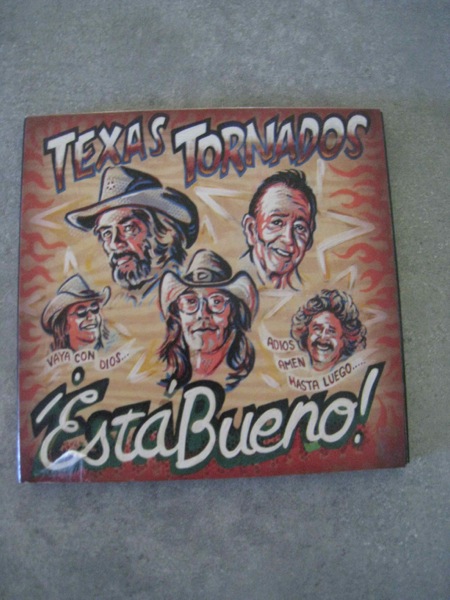 I've seen plenty of Supegroups in my time, but can't think of too many cases where the tag fits better than the Texas Tornados. While none of the four founder members was a household name (well, maybe Freddy Fender), and there wasn't anyone of superstar status in the quartet it's hard to come up with another tag to describe a combo that brought four significant figures in the Tex-Mex scene into collaboration.
For a start, there were the two key elements in the Sir Douglas Quintet in the form of Doug Sahm and keyboard player Augie Meyers, whose transcribed accordion licks on the organ made
She's About A Mover
and
Mendocino
so memorable. Add to that the genuine accordion genius of Flaco Jiminez and the distinctive voice of Freddy Fender and you've got an outfit that covers many of the bases as far as Texas music is concerned.
Freddy Fender may be remembered in these parts for his seventies hits that seemingly (at the time, at least) bordered on
schmaltz
, and probably makes him one of those artists you might want to change course to avoid, but anyone who's seen the Texas Tornados
Live From Austin TX
DVD would know that he plays a rather mean blues guitar, and his hits, placed in this context, tend to work rather well.
We're not, in any case, going to be expecting high art or great philosophical statements from an outfit like this. It's more a case of having a good time over a few drinks than an ongoing discussion of the
deep and meaningfuls
.
Doug Sahm and Freddy Fender may no longer be with us, but there are enough bits and pieces left around, including five previously unreleased vocals from Freddy and enough new input from Augie, Flaco and Doug's son Shawn to cover for their absence.
The album kicks off with a Sahm father and son co-write,
Who's to Blame, Senorita
, which is a fair enough indication of what's in store over the rest of the journey, and there's a dash of Tex-Cajun swamp pop in
If I Could Only
, with Freddy Fender in fine voice while there's a celebration of some of the finer aspects of Tex-Mex life in the album's title track (celebrating the humble
jalapeno
, among other things) and
In Heaven There Is No Beer
. Throw in re-workings of tracks from Doug Sahm's back catalogue in Bobby Charles' classic
Tennessee Blues
and Doug's
Chicano
.
With Flaco's conjunto accordion and Augie's trademark keyboards prominent throughout proceedings, you've got a rather tasty little album to kick back and enjoy in a convivial environment. No surprises, just fun, uptempo party music.