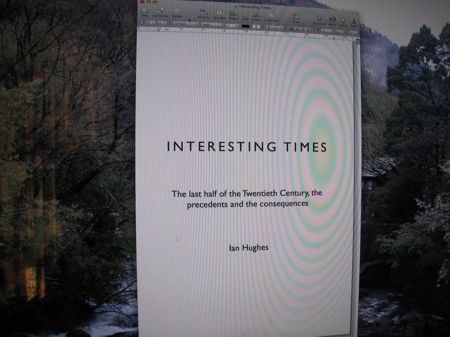 There are a number of reasons why Hughesy's now the proud owner of an iPad, but one of them was the possibility it offered as far as digital publishing is concerned.
I've been working with
Pages
, which allows the user to export documents in a variety of formats, including PDF, Word, RTF (that's Rich Text Format, in case you're wondering) and ePub, which is the iPad-friendly digital format that'll deliver the content to your handy tablet.
The list below includes everything I've switched into that format, grouped in one handy location. Please note that clicking on the links only delivers the desired result when you're using your iPad. When prompted, 'Open in iBooks' (or whatever ePub friendly app you have installed on the tablet). This does not seem to include Amazon's proprietary Kindle app.
As always, if something doesn't work, please drop me a line by clicking the
Contact Me
button.
Dirty Work at the Crossroads
Interesting Times Part 1
The Real Australia