10 February 2012


Afrocubism
(4.5*)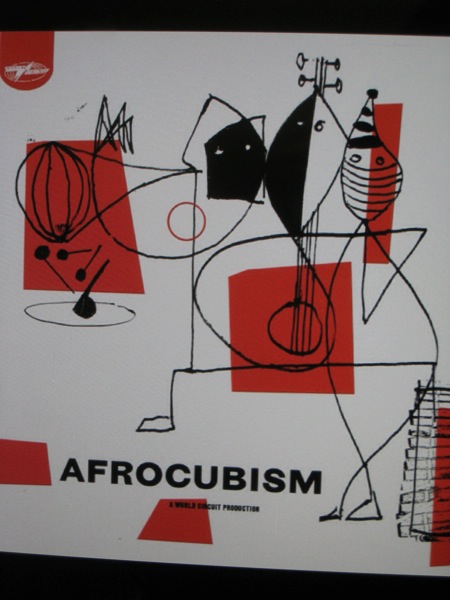 As stories of musicians' ill fortune go, it ranks not far from Leonard Cohen having to tour because his business manager stole his retirement savings. In 1996, Malian musicians Bassekou Kouyate and Djelimady Tounkara were invited by World Circuit Records' Nick Gold to Havana to record with a handful of Cuban singers and musicians. Depending who you talk to, lost passports, visa issues or better-paid gigs elsewhere ensured the Malian musicians never made it to Cuba.
Regardless of whether anything got recorded the studio had been booked and there was a bill that needed to be paid, and while the results after guitarist Eliades Ochoa matched an assortment of retirees with the session players assembled for the session were interesting, even an extreme optimist wouldn't have expected
Buena Vista Social Club
to sell more than eight million copies.
That success, along with the various spin-off projects that ensued, meant that it was a good fourteen years before Gold managed to get something like the line-up he's originally planned in one place to record. Full marks for persistence...
A blend of West African and Cuban elements might sound odd when you first come across it, but there's a general recognition that African music crossed the Atlantic on the slave ships and provided a basis for much of the music of the Americas, particularly the blues and jazz, though there are significant African influences in most variations on the Latin theme as well.
What's probably less well known is that the Latin, and particularly Cuban influences went back across the Atlantic, so you'll find significant Cuban influences in contemporary West African music. African liberation movements received substantial assistance from Cuba during the Cold War era, and nationalist leaders like Mali's Modibo Keïta promoted Cuban cultural influences as well. After all, as far as the Malians were concerned, the Cubans weren't French.
While the military-backed regime installed after the 1968 coup that overthrew Keïta encouraged
authenticité
through traditional African music, Cuban elements persisted in the background in outfits like Bamako's Rail Band, formed by the railway authorities to play near the main station for passengers waiting for their train.
Scheduling issues limited the recording sessions that produced
Afrocubism
to five days and ruled out lengthy rehearsals, so what's on offer here is drawn from seventeen tracks recorded live in the studio without additional overdubs or any similar frippery.
In the intervening years a number of those who would have been in the original sessions have passed on, and here the personnel are Eliades Ochoa and members of his band Grupo Patria along with original Malian invitees Djelimady Tounkara (guitar) and Bassekou Kouyate (
ngoni
), and additional African stars in the shape of Toumani Diabate (
kora
),
griot
singer Kasse Mady Diabate and Lassana Diabate (
balafon
).
For the uninitiated
kora
equates to a cross between a harp and a lute, the
griot
equates a combination of poet, musician and storyteller who maintains the oral tradition while the
balafon
equates to a xylophone.
While the material is split roughly fifty-fifty between Africa and Cuba, the predominant vibe is West African, with Cuban nuances added to the African material while the African elements weave their way into Cuban classics like
Guantanamera
. It's a case of one side playing their own music and the other side figuring out a way to fit in, so it's a genuine fusion of two not quite disparate elements, since there's a strong African influence in Cuban music which was then re-exported back to revolutionary Africa.
Toumani Diabaté claims the writing credit for the opening track,
Mali Cuba
, loosely based around the familiar
Guantanamera
with the
kora
tinkling away as the
balafon
lays out the melody and Latin brass adds a touch of the Caribbean.
That's followed by Eliades Ochoa on vocals for
Al Vaivén De Mi Carreta (The Swaying Of My Cart)
, the first track actually recorded for the album. Half way through
griot
Kasse-Mady Diabaté takes over the vocal, and the
griot
territory continues through
Karamo (The Hunter)
delivered with a Latin lilt.
Guitarist Djelimady Tounkara leader of the Rail Band guides the ensemble through
Djelimady Rumba
, and he's back to the fore on
La Culebra (The Snake)
a Cuban
afroson
dating back to the thirties.
Jarabi (Passion)
goes almost as far back, advocating romantic passion ahead of arranged marriage. It's apparently a popular item in the
griot
repertoire, but, again, the Cuban influence slots in comfortably with the African elements. Latin lilt strikes again.
Eliades Ochoa recorded the instrumental interlude
Eliades Tumbao 27
in a break from group recording (I'm assuming the
27
has some significance there) before the percussion-heavy
Dakan
and the
balafon
-driven
Nima Diyala (I Beg You My Sweetheart)
where the message is to maintain personal relationships with dignity. It was, according to the digital booklet, a popular piece with West African dance bands in the seventies and features Lassana Diabate playing simultaneous
balafons
(with the second filling the role of the black keys on the piano).
A la luna yo me voy (I'm going to the Moon)
, a Haitian
merengue
written by Ochoa, expressing concerns about global warming is followed by
Mariama
, a studio jam involving Ochoa and Bassekou Kouyate with lyrics from a traditional song about destiny
Para Los Pinares Se Va Montoro (Montoro's Going To Los Pinares)
a Compay Segundo
son
from the 1950s has some fine guitar work from Eliades and Djelimady,
Benséma (Chance)
runs a Cuban guitar riff through a Malian reflection just how much of life is up to what I've been known to refer to as
dumb luck
and proceedings close with a languid ngoni, guitar and kora exposition of the Guantanamera theme that kicked off Mali Cuba.
Afrocubism
gives an almost seamless journey through a number of African and Cuban elements, and there's a chemistry there that could point the way for similar collaborations in the future.
If it does, I'll be buying...