Friday, 24 February 2012
Leonard Cohen
Old Ideas
(4.5*)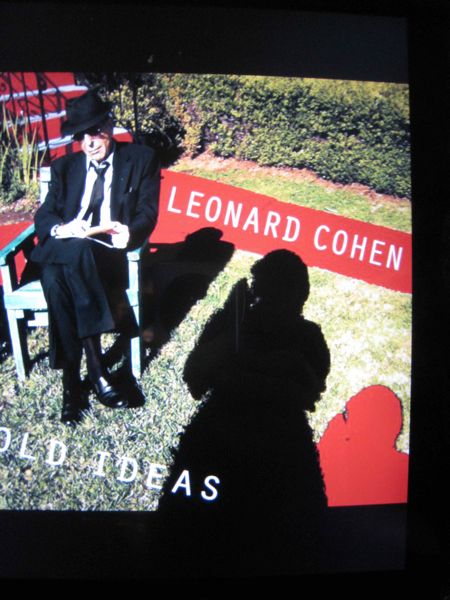 I suspect if you took the most cloth-eared occasional listener and presented him or her with Leonard Cohen's
Dear Heather
and
Old Ideas
in quick succession and asked if there was a discernable difference the response would be an unequivocal
yes
. They mightn't be able to explain the how and the why, being
cloth-eared
and
occasional
rather than
deeply immersed
and
music freak
, but the difference comes down to the fact that for the last couple of years Cohen has been, to all intents and purposes, a working musician.
Back when
Dear Heather
was released in 2004 Cohen was coming off the disconcerting discovery his manager had frittered away around ten million dollars that amounted to Leonard's personal superannuation. He'd sold off his publishing and royalties to Sony Music in 1996 and 2001, in a move that was supposed to fund his retirement. Three years later he was down to his last $150,000 and was, virtually, broke.
The obvious move was to cut a new album, and
Dear Heather
mightn't have been the greatest thing he's ever done, but there are many Leonard Cohen fans out there, and Hughesy's one of them, so there I was, cheerfully handing over my contribution to Leonard's new retirement fund.
Dear Heather
definitely sounded like it had had been pushed together in relative haste, which is understandable given the circumstances, but didn't produce an overwhelming listening experience.
You might hesitate to use terms like
lightweight
to describe a Leonard Cohen album, but
Dear Heather
was lighter than 2001's
Ten New Songs
, and you'd have to suspect the change in mood was the result of a change in personal circumstances, even if that change was a shift in personal relationships and a lifting of depression induced by exposure to Zen Buddhism rather than a discovery of managerial betrayal.
You'd expect, after all, that you'd be able to get the money back, wouldn't you?
But it's not that simple. A 2006 law suit awarded Cohen $9 million, but he wasn't able to collect the money and he was sued in turn by former business associates. There were also, one gathers, certain issues with the Internal Revenue Service, and the obvious way out was to resume touring, which resulted in a two-and-a-half year world tour through 2008-2010, the
Live in London
DVD and album and last year's
Songs from the Road
.
Having caught the tour in Brisbane in November 2010, from the first notes of
Going Home
on the new album it's obvious that we're looking at the result of collaborations shaped on the road rather than in retreat at Mount Baldy. There's a richness and warmth that reflects lengthy exposure to a touring band working in a live environment rather than the studio minimalism that characterised his previous couple of studio efforts.
That's not to suggest a change of direction. The words are, as ever, finely wrought, not a syllable out of place, and delivered in that familiar world-weary murmur. Instrumentally, while we're into acoustic rather than electronic territory (violin, slide guitar, trumpet, lightly brushed drums) and familiar slow-motion rhythms invoke the blues, hymns and waltzes, delivered low key with those gorgeous semi-whispered phantom female choirs above.
There are, however, unexpected collaborations. Patrick Leonard, better known as Madonna's producer was involved in recording Cohen's son Adam's recent album, spotted the potential in one of Dad's poems, and the result is the opening track,
Going Home
, sung by an unnamed narrator who uses Leonard as a mouthpiece in a wry piece of self-analysis.
From the earliest notes it's something that would have slotted seamlessly into his recent live shows, with the choir joining in as the lyrics turn to the final journey we're all eventually going to face. It's a track that sets the tone for the remainder of an album that addresses the past and growing older.
Amen
, seven and a half minutes of slow shuffle with clear echoes of I'm Your Man, filters the older song's wry sensualism through a haze of alcoholic horror seeking reassurance from a lover who's aware of where he's been and presumably unsure whether his current cleanliness and sobriety can be maintained amid the self-doubt and the horror. Great understated trumpet solo as well.
In much the same way as the previous track echoes
I'm Your Man
,
Show Me the Place
(another Cohen-Patrick Leonard collaboration) revisits
If It Be Your Will
as the singer requests directions to
the place where you want your slave to go
, with harmonies from Jennifer Warnes' soaring above the main vocal line.
Darkness
was a regular inclusion in the live set, a slightly jauntier blues driven by guitar and organ that provides a little up-tempo light and shade after three tracks of brooding before the pleas for forgiveness return with
Anyhow
(
I know you can't forgive me/But forgive me anyhow
), rhythm tapped on a fedora, moody minimalist piano, sighing vocal line from Sharon Robinson and the Webb Sisters, a statement of lust married to a request for redemption.
Crazy to Love You
, co-written with current partner Anjani Thomas, works the same territory with a whispered vocal over soft-focus acoustic guitar, while those gorgeous harmonies lead into
Come Healing
a
penitential hymn
(his words, not mine) while
Banjo
,
Lullaby
and the closing
Different Sides
continue the autumnal tone, musing on memories and pondering the same subjects Cohen has pondered since
Songs of Leonard Cohen
back in 1968 with a wry wit that wasn't always obvious back then.
That's forty-four years working the same seam of faith and doubt, love and desire, betrayal and redemption evoking ancient traditions and eternal themes that might be
Old Ideas
but aren't going to become extinct any time soon.
Assuming he can get himself into the studio it won't be the last examination of these matters. He already has enough songs for another album, and you can be sure that he won't be changing his subject matter, will he?
No, the next record, assuming he's not taken from us in the interim will be another exploration of mortality, spirituality and the human condition, delivered with a self-deprecating gravity over a bleakly minimal accompaniment that delivers light and shade with the female harmonies soaring and sighing through the mixture.
After all this time the listener knows what's coming on a Leonard Cohen album. Your mileage, of course, is going to vary. While some of us will see a new album as a welcome addition to a body of work that fits like a comfortable overcoat there'll be others who'll regard it was sackcloth. Fair enough, with Cohen once you've sampled what's on offer you know what you're getting and while
Old Ideas
won't convert the disbeliever it might just add a few converts from the uninitiated.
After all, from where I'm sitting it's some of his very best work.