Monday, 19 April 2010


Bobby Charles
Timeless
(4*)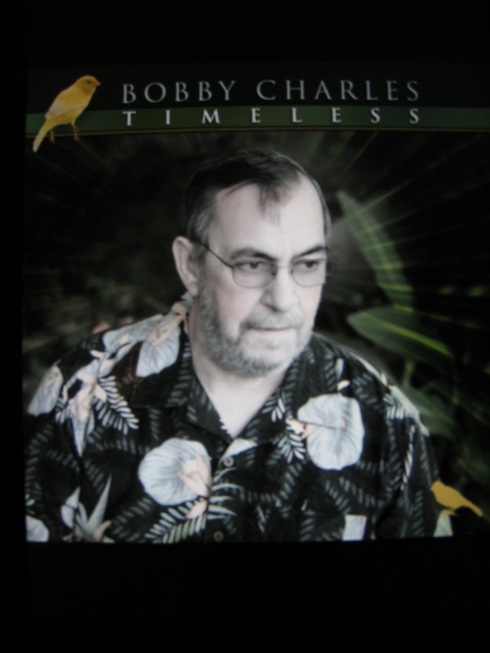 The title of Bobby Charles latest, and presumably last, album says it all, really.
Most of the material on
Timeless
would have fitted equally well on 1972s
Bobby Charles
or any of the handful of albums he released over the intervening twenty-eight years.
Since we're only talking a total of eight releases, with a bit of duplication along the way, Charles was never the most prolific of writers, but when you take a glance at the titles in his back catalogue, it's a definite case of quality over quantity.
Ain't Got No Home
,
Before I Grow Too Old
,
(I Don't Want To Love You) But I Do
,
I'm (Just) That Way
,
Jealous Kind
,
See You Later Alligator
,
Small Town Talk
,
Tennessee Blues
,
Walking To New Orleans
and
Why Are People Like That
all occupy prominent places in Hughesy's personal music iconography, though that's largely due to a familiarity with covers by The Band, Doug Sahm, The Black Sorrows, and a handful of others including Clarence "Frogman" Henry, Fats Domino and Bill Haley & The Comets.
If you're familiar with any of them, or if you've already picked up on Bobby Charles, you know exactly what's on offer here, from the down to earth down home feel, to the casual conversational vocal tone and healthy serves of Mac Rebennack (Dr John) and Sonny Landreth in the background. Rebennack's production hits all the right notes, while his keyboards and Landreth's guitar add the punctuation and keep things flowing at the same time.
You're never going to get great philosophical statements in a title like
Happy Birthday Fats Domino
or the closing
Happy Halloween
, which uses the same tune. Tunes, of course, aren't exactly what Charles is about, and as the brass and the vocal chorus runs through the bouncy second-line playout to
Fats Domino
, that New Orleans feel is the essence of the man and his music.
That's not to suggest the man won't philosophise at all. There's a bit of it in
Where Did All The Love Go
, which is a good question, though predictably Charles doesn't come up with anything too deep and meaningful to sit on top of a comfortable groove apart from noticing it's gone and wondering which way it went.
Nickels, Dimes and Dollars
works through the monetary units to enumerate the financial implications of the narrator's heartache,
a dollar for every time I holler your name
would, in other words, make him a rich man indeed. Like all Charles' work it's straightforward stuff but there's a warmth there that few other artists can generate.
Clash of Cultures
, rather than coming out to talk about big philosophical issues, brings it down to me and you which you can read as dealing with a relationship or society as a whole.
The highlight of the album is
Little Town Tramp
, a successor to
Small Town Talk
, with Charles reflecting on the girl's downfall over some understated B3 from Rebennack. Tasty.
There's a reflective tone running through much of the album,
Nobody's Fault But My Own
, for example, says it all in the title and makes no bones about it in the lyrics and while the remade
Before I Grow Too Old
rolls along pleasantly enough it's more up tempo with greater urgency than the '72 version (and most of the covers) suggesting Charles knew he didn't have a lot of time left, and states his intentions without regrets or second thoughts. Sort of
that's the way it is podjo, so this is what I'm gonna have to do
.
There's some lovely understates mariachi brass running through
Old Mexico
, and lyrics that aren't a long way away from those of
Down South In New Orleans
, and while
Rollin' Round Heaven
gets a slightly harder gospel-tinged treatment there's nothing much different about Charles' vocal delivery.
When Love Turns To Hate
is pretty much as you'd expect it, and if you'd expect a title like
Take Back My Country
to be a rousing call to arms, and the lyric line seems to have a dig at Sarah Palin, that vocal style isn't going to be storming the barricades any time soon.
After the lingering slide note that begins the penultimate
You'll Always Live Inside of Me
, Landreth's wonderfully understated guitar work through the rest of the track is one of the instrumental highlights of the album (along with Rebennack's keys on
Little Town Tramp
). It's the same sort of understated heart-searing you find, for instance in some of Ry Cooder's best work.
As suggested earlier, fans of Charles' work will be happy to know it's a case of more of the same, and for fans of straight ahead uncluttered down home music who aren't familiar with the man's work
Timeless
is well worth investigating.