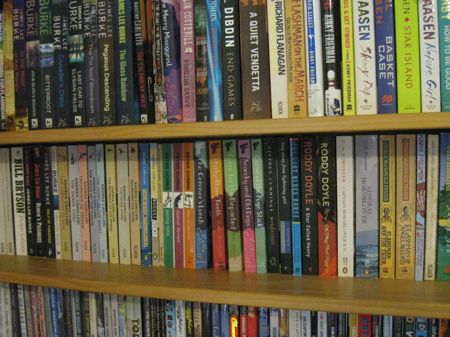 And so, here we are at the part of the site devoted to the material that has found its way onto Hughesy's bookshelves or passed through The Little House of Concrete or the unit in Southport on loan from the local Library.
While most of the content is still sitting over there on the old
Books and Reading Pages
, and this page is a temporary placeholder before the sidebar on the left becomes a much more complex affair we can briefly outline what you'll be finding in the sidebar once those complications arrive.
Library Cards
,
Library Fiction
and
Library Non-Fiction
provide, as one might guess, a place where I can remind myself of what I've read and, briefly, what I thought about it. The memory's not what it used to be, and I tend to like authors with extensive bibliographies.
On that basis, you'll find the
Authors
page linking to lengthy articles covering the writer's complete output (
Author's Oeuvre
) while
Fiction
and
Non-Fiction
are concerned with single titles, often reprising content that appeared in
The Little House of Concrete Bookshelves
blog.
As a navigation aid, there's also an non-fiction index, sorted by
Subject Areas
.