Monday, 6 February 2012

When you look back on these things it's very much a matter of how you like your iconic figures and, if you've alighted somewhere along the way, the point at which you get back on the train (or, in this case, reenlist in the
Crusade
).
Rear View: John Mayall in the Sixties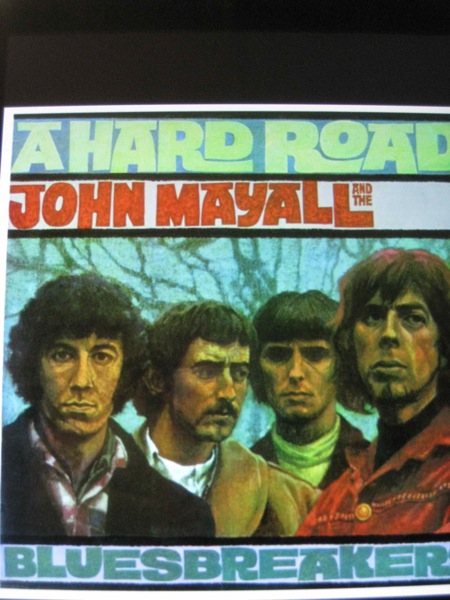 While John Mayall is pushing eighty, has close to fifty years on the road as a full time musician and continues to add to an already extensive discography, that's probably the result of financial necessity rather than choice. Musicians tend not to have superannuation and health insurance, and incidents like the house fire in 1979 that took out his music collection and archives, as well as a collection of historic pornography dating back to the 13th century suggest that his investment decisions haven't always turned out for the best.
Mayall is best known for those few years in the late sixties when the albums he recorded with The Bluesbreakers regularly hit the Top 10 of the British album charts. Much of that success was, of course, due to the succession of killer guitarists he managed to enlist for a busy schedule around a fairly active blues club circuit.
When The Yardbirds
veered
off in directions that weren't compatible with his then-blues purist soul (cue:
For Your Love
) Mayall provided Eric Clapton with the gig that prompted the
Clapton is God
graffiti around the various blues-friendly venues across the British Isles.
Clapton headed off to form Cream with Jack Bruce and Ginger Baker after a music magazine poll identified the trio as the pick of British instrumentalists and Mayall had a ready-made replacement for him in Peter Green, who'd filled the slot during Clapton's three month Greek excursion towards the end of 1965.
Green's tenure on the Mayall treadmill lasted from 17 July 1966 until 15 June the following year, when he left to form Fleetwood Mac, and he was replaced by a teenaged Mick Taylor, the longest-serving of the
great guitarist
trio, who lasted close to two years before he went on the join the Rolling Stones.
As far as the recordings go, you can reduce the early Mayall albums to an almost essential handful by omitting the pre-Clapton live
John Mayall Plays John Mayall
, the solo in the studio
The Blues Alone
(both of which appear to be available on CD and iTunes) and the two live
official bootleg before the category was invented
volumes called
Diary of a Band
, which still managed to sneak into the British album charts despite sound quality that was on the ordinary side of ordinary.
I had the last three on vinyl back in 1968, and while those copies, bought from a radio DJ who didn't see any point in holding on to sample records that he didn't like, and long gone in the course of relocations through a dozen residential addresses.
The Blues Alone
seemed reasonably good at the time, interesting as an exercise in working through some material using the wonders of multitrack recording, and while the playing on
Diary of a Band
was fairly good, the sound quality was such that they don't seem to have turned up on CD, which probably says it all…
Diary of a Band
did, however, provide the version of
God Save the Queen
played on parade at Townsville's Pimlico High School on the last day of Year Twelve in 1968…
Which leaves five albums from the Decca albums credited to the classic Bluesbreakers line-ups. There's also a Decca/Deram compilation called
Looking Back
which shows all the signs of a vault-clearing exercise as Mayall vaulted across to Polydor.
Bluesbreakers With Eric Clapton
's probably the obvious starting point, and $10.99 on iTunes for a twenty-four track version might seem reasonable until you look at the track list doubling up mono and stereo versions of the twelve track album, which probably explains why Hughesy hasn't caught up with this one yet. There's a forty-three track version of the same thing, padded out with BBC radio sessions, live tracks and alternative mixes that'll end up in my iTunes eventually. If I notice they've dropped the price I'll be there like a shot…
I also had fairly extensive exposure to the albums from the end of the Mick Taylor era (
Bare Wires
and
Blues from Laurel Canyon
) back in the day, but I'm not at the point where I'm inclined to shell out $11.99 for the original album plus a bonus track or two. Again, notice a drop in price and I'm there, but in the meantime…
So we're left with these two reissues.
A Hard Road
, at $8.49, was pretty much a no-brainer, since it's the only album from the Peter Green era and what's there looks like they've included just about everything recorded over that twelve month period.
Crusade
is a slightly heftier slug in the kick, but with the original twelve tracks nearly doubled with bonus material it seemed like the $11.99 was a reasonable investment.
The first thing that strikes you (or, at least the first thing that struck me) about both these albums is relative sparseness of the sound. We're talking a basic guitar, bass, drums and keys outfit here, with the odd bit of horn work riffing in the background. None of that fancy overdubbing to fill in holes in the sound here, folks.
One imagines it was a case of a quick run through a bundle of numbers they'd worked up for the live set live in the studios straight onto the four track (at the maximum) recorder. If the Beatles were forced to do something like
Sergeant Pepper
on four tracks you can't imagine a blues band getting access to anything better, can you?
And with more than four inputs (vocals and guitar, one imagines, would take up half of what's available there's not going to be room for overdubs unless you were to mix things down to make room, and that's going to take time
innit
?
The second thing that strikes you (or, again, that struck me) is Mayall's limits as a vocalist. Don't get me wrong, he delivers a competent performance throughout, but he doesn't deliver the throaty roar of a Winwood, Marriott or Stewart.
But, on the other hand, if you look on the vocal choruses as a bit of filler between instrumental breaks that's hardly a problem, is it?
Because, when you look at it from where I'm sitting you're interested in catching the early versions of a couple of great guitarists doing their thing and throughout both albums Peter Green and Mick Taylor deliver in spades.
A Hard Road
, recorded on five dates in October and November 1966, and released the following February, featured Mayall on guitar and keyboards with Green on lead guitar, John McVie on bass, Hughie Flint and Aynsley Dunbar on drums and a brass section comprising John Almond, Alan Skidmore and Ray Warleigh. Vocals are mainly Mayall, though Green takes the lead on
You Don't Love Me
and
The Same Way
. Writing credits mainly go to Mayall, though Green contributed two, including the prototype for
Black Magic Woman
(
The Supernatural
) and a quartet of covers
You Don't Love Me
, Elmore James'
Dust My Broom
, and Freddie King's
The Stumble
and
Someday After A While (You'll Be Sorry)
.
With the volume cranked a bit, it might sound dated, but there's some stinging lead work from Green and while we're talking a period piece it's a prime example of the emerging incarnation of British blues.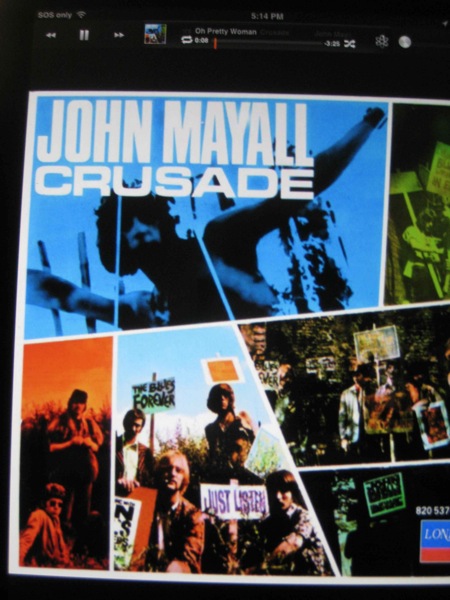 Apparently cut in a single session on 12 July 1967 at Decca West Hampstead Studios and released two months later,
Crusade
had Mayall and McVie from the previous lineup with Mick Taylor replacing Green, Keef Hartley taking over the drum stool and Chris Mercer and Rip Kant coming in to play sax.
As with
A Hard Road
, the dozen tracks on the original album are split roughly half and half (actually, five-seven) between original material and covers, with the instrumental
Snowy Wood
standing out from the vocal tracks. The Mayall/Taylor
Snowy Wood
and Freddie King's
Driving Sideways
are the album's highlights, but there's tasty guitar throughout and the addition of the horn section adds light and shade that would be explored a little further on
Diary of a Band
and
Bare Wires
before Mayall pared things back on
Blues from Laurel Canyon
.
While some might be inclined to use the
rough as guts official bootleg
recordings on
Diary of a Band
as the transition,
Crusade
marks the transition point between the blend of covers and originals that had been the rule up to this point. As with the preceding albums there are substantial instrumental chops on display throughout
Crusade
, but in an environment where boundaries were being stretched original material seemed to be increasingly de rigeur, which to me, at any rate,
As a result,
A Hard Road
and
Crusade
come across as rather retro, but they've also got a certain period charm that dissipated as Mayall and company yielded to what I've come to describe as the prog rock impulse towards complexity and virtuosity for the sake of virtuosity, explains the side long suite that opened
Bare Wires
and the thematic song cycle that was
Blues from Laurel Canyon
.